The best mirrorless cameras represent some of the best imaging technology you can buy in 2023. Whether you're an absolute beginner photographer, a committed enthusiast who loves capturing shots of wildlife, or a professional content creator who dabbles in stills and video, a good mirrorless camera will almost certainly suit your needs. This comprehensive guide is designed to help you find the right option for you.
There are a fair few manufacturers in the mirrorless space right now – we're going to be dealing with Canon, Nikon, Sony, Fujifilm, Panasonic and Olympus / OM-System in this guide. We've split the guide up into section to make it easier to navigate – first we run through the best mirrorless cameras for beginners. These are suited to new users, perhaps those who've been shooting on a smartphone and have decided to upgrade. This is also where you'll find the cheapest options, though if budget is a big concern, you may want to check out our dedicated guide to the best second-hand cameras and lenses.
After that, we deal with the best mirrorless cameras for enthusiasts, which provide superior image quality, handling and a greater degree of control. Many of these cameras are also good enough for professional work, and have excellent capabilities for shooting video as well as stills. For those who need the best of the best, however, our final section details the best mirrorless cameras for professionals. Naturally, these are the most expensive cameras on our list, but with superb image quality and class-leading features.
If you feel you need a primer on how to choose the best mirrorless camera, you can scroll to the bottom of the page where we've put together a quick explainer section – our DSLR vs mirrorless guide may be useful if you're not all that sure what a mirrorless camera is or why you might choose one. Conversely, if you're looking for something more advanced, we have a dedicated guide to the best full-frame mirrorless cameras.
The best mirrorless cameras – our quick list
Want to cut to the chase? Here's the quick list of all our picks of the best mirrorless cameras you can buy, from beginner options to top-end pro shooters…
The best mirrorless cameras for beginners:
The best mirrorless cameras for enthusiasts:
Best mirrorless cameras for professionals:
In this essential buyer's guide we take a closer look at some of the best mirrorless cameras that you can currently buy. We give our expert recommendations about what each one is best for to help you to make an informed buying decision that best suits your needs and budget…
The best mirrorless cameras for beginners
If you're just getting started with photography or videography, mirrorless systems are an excellent choice of beginning point. Here in this first section, we've picked out the mirrorless cameras that offer a solid foundational platform for any beginner. They're lightweight enough to take everywhere (which is the best way to learn to use a camera), they're affordable enough that most users can pick them up and learn how they work – and, when it comes time to buy something more advanced, they offer a very tempting upgrade path.
It's worth giving an honourable mention to some cheaper models that are perhaps a little too basic to make it on to our list, but could still be great option if money is tight. These include the vlogging focused Nikon Z30 and retro-styled Nikon Z fc, together with the new Canon EOS R100 and EOS R50 models. And if you're keen to get started in content creation with a camera that has a solid lens line-up behind it, it's hard to do better than the Sony ZV-E10 or the Panasonic Lumix G100.
Canon EOS R7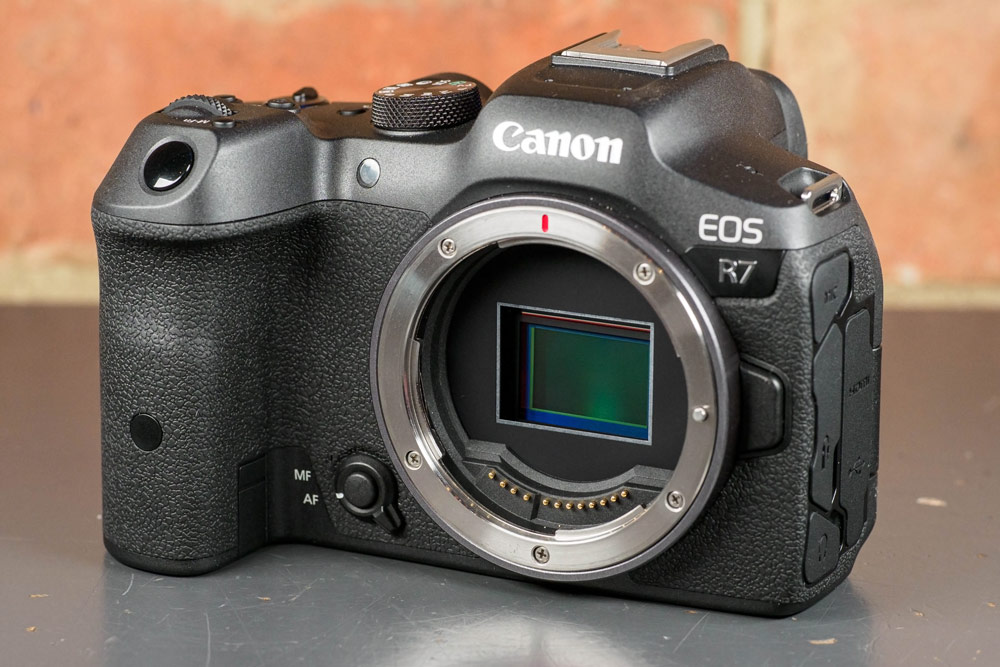 At a glance:
32.5MP APS-C sensor
Canon RF-S lens mount
30 fps shooting
4K 60p video
$1,842 / £1,449 body only
The Canon EOS R7 was a long-expected addition to the flagship EOS R line-up, pairing the RF lens mount with an APS-C sensor. This is the more sophisticated model than its release partner, the EOS R10, and with 32.5MP of resolution, it's an ambitious prospect. On paper, it out-specs all of Canon's APS-C DSLRs, as well as the entire EOS M mirrorless line, with up to 30fps continuous shooting, 5,915 AF points, and dual UHS-II SD card slots.
In our review, we were highly impressed with the EOS R7's capabilities. Its extensive feature-set has been packed into a body that's pleasingly light and handles well. The 2.36m-dot electronic viewfinder and a 3in, 1.62m-dot vari-angle touchscreen are both excellent, and the weather sealing is equivalent to the EOS 90D, which is highly welcome.
Canon RF-S lenses
Really, the only strike we had against the EOS R7 is something that will hopefully correct itself with time – the poor selection of native RF-S lenses. So far, we've only seen a couple of these lenses, and while the full-frame RF lenses will work with the camera, their size and price don't really balance well with it.
Canon's entry-level stable for the EOS R system includes several models that sit beneath this one – the aforementioned EOS R10, EOS R50 and the ultra-cheap EOS R100. We reckon the EOS R7 provides the best bang-for-buck for beginners, but if your budget is limited, these cameras are also well worth considering.
Pros:
Impressive resolution for the price
Weather sealing
High-res LCD and EVF
Cons:
Poor lens selection (so far)
Beginners may prefer cheaper EOS R10
Best for: enthusiasts who want to try the R system
Read our Canon EOS R7 review
Olympus OM-D E-M10 Mark IV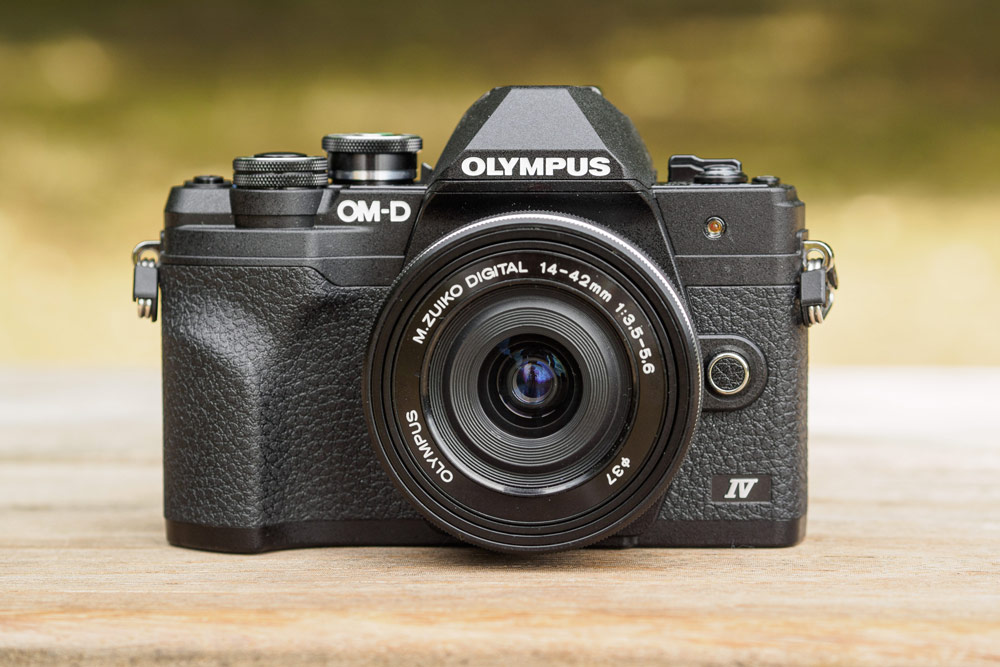 At a glance:
20MP Four Thirds sensor
Micro Four Thirds lens mount
15fps shooting
4K 30p video
$825 / £649 body only
Based around a 20MP sensor, this attractive compact mirrorless model offers excellent JPEG image quality with extremely attractive colours. Paired with the TruePic VIII processor, it provides a sensitivity range of ISO 200-6400 as standard, with extended settings equivalent to ISO 80-25,600 available.
The design is stylish and the ergonomics are well laid-out, while extremely effective in-body stabilisation keeps pictures sharp. One of Olympus's key technologies is its 5-axis in-body image stabilisation, which works with practically any lens you can fit onto the camera, aside perhaps from very long telephotos. The E-M10 IV promises 4.5 stops benefit when shooting hand-held. This allows you to keep your ISO setting down in low light, offsetting the noise disadvantage of the smaller sensor, or to use slow shutter speeds hand-held for creative motion-blur effects.
JPEG output
The camera's automated systems work very well. Metering, auto white balance and colour rendition all come together here to give consistently attractive JPEG output. It's also easy to judge in the viewfinder when you might want to lighten or darken an image for aesthetic effect, and apply the requisite level of exposure compensation.
You also get a good set of useful advanced features and the camera is supported by a fine set of small, affordable Micro Four Thirds lenses. You'll also find the camera offers Wi-Fi and Bluetooth connectivity, as well as 4K video recording. With In-Body Image Stabilisation, it offers great value for money.
Pros:
Tidy, well-packed body
Excellent auto modes
Well-designed viewfinder
Cons:
No mic socket
Raw quality lags behind APS-C peers
Best for: travel photographers
Read our Olympus OM-D E-M10 Mark IV Review
Fujifilm X-T30 II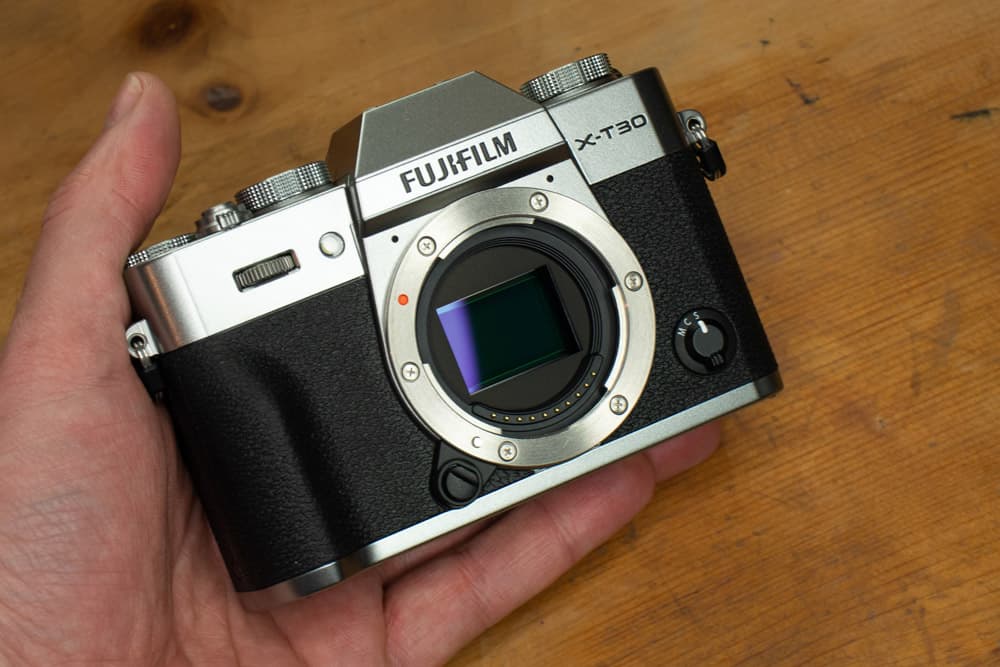 At a glance:
26.1MP APS-C X-Trans CMOS IV sensor
Fujifilm X lens mount
Up to 30fps with electronic shutter (cropped), 20fps uncropped
4K CINE/UHD 30p video
$1,016 / £799 body-only
The Fujifilm X-T30 II is an update to what was previously Fujifilm's best selling and most popular camera in its X-series range, the X-T30 (and before that, the X-T20). The X-T30 came out in 2019, with an RRP of £849 body only. The X-T30 II was introduced in 2021 with an improved specification, but a reduced price of £769 body only. This makes it very competitively priced, considering what is on offer.
You get the same 26.1MP APS-C X-Trans 4 CMOS sensor, as used in the flagship X-T4, which is roughly twice the price, as well as the same image processor. The X-T30 II also features 4K CINE video recording, a 3-inch 1.62M dot screen, and an electronic viewfinder (EVF).
Improvements over the X-T30
The improvements compared to the X-T30 are the X-T30 II's 1.62M-dot 3-inch touchscreen, its Classic Neg and Eterna Bleach Bypass film simulation modes, an improved multi-exposure mode (up to 9 shots), High-speed video recording (FullHD, 240fps), an improved autofocus system inherited from the X-T4, an improved buffer memory and a refreshed menu system that splits stills/movie menus.
The Fujifilm X-T30 Mark II is an excellent camera. The X-T30 was (and still is) a great camera, and similarly, the X-T30 II is also a great camera. Improved over the original, but at a lower price point, the X-T30 II is a great mirrorless camera for those who are looking for excellent image quality, in a compact and portable camera.
Pros:
Priced under the X-T30
High-speed video options
Excellent autofocus
Cons:
Badly placed Q button
No in-body stabilisation
Best for: mirrorless beginners
Read our Fujifilm X-T30 II Review
Nikon Z50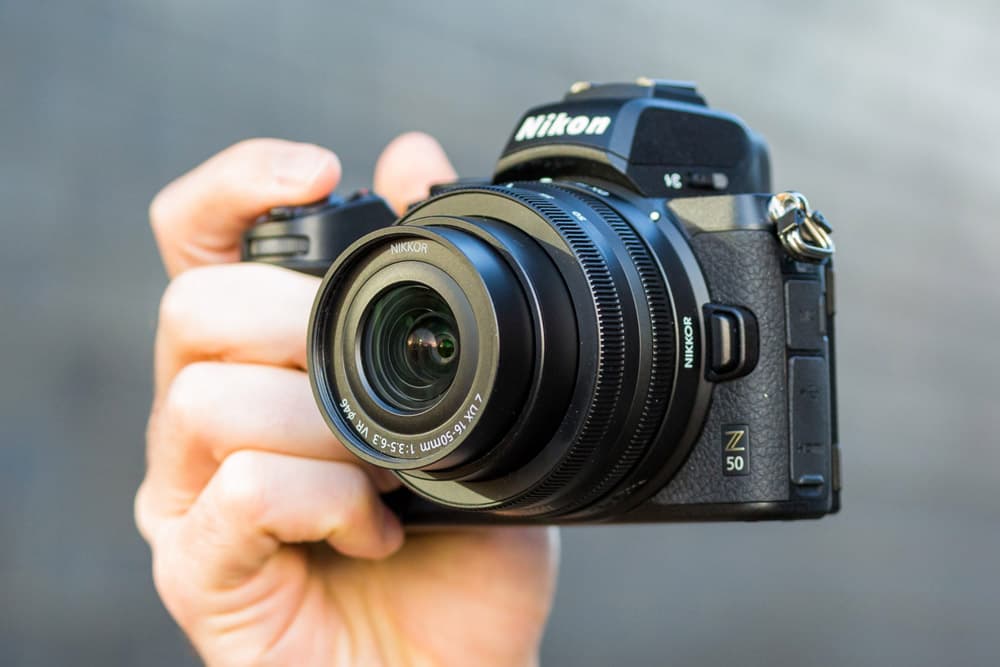 At a glance:
20.9MP APS-C sensor
Nikon Z-mount
11fps continuous shooting
4K 30p video
$1,143 / £899 body only
Nikon's entry-level mirrorless model produces fine images and is a delight to use. The Nikon Z50 was Nikon's first shot at creating a DX-format mirrorless camera with an APS-C sensor. It shares the large Z mount and, as well as accepting new DX-format Z mount lenses, it can be used with Nikon's ever-growing range of full-frame Z mount optics. Nikon F-mount lenses can also be paired via the FTZ mount adapter.
It has a purposeful design, good-sized handgrip and well thought through layout of controls. Part of the Z 50's excellent feel comes down to the fact it has a magnesium-alloy top and front chassis that gives it added strength and robustness. Handling is impressive, as you would expect from Nikon, with the camera having excellent ergonomics.
Shooting experience
The excellent electronic viewfinder and responsive touchscreen enhance the enjoyable shooting experience, and with 11fps continuous shooting and a responsive autofocus system, the Z50 rarely feels out of its depth when challenged by fast paced subjects. Whether it's used to capture stills or snippets of video, the Z50 produces satisfying results.
Overall, it's a marvellous little APS-C format camera that offers great value for money. You can't fail to fall in love with when you're using it and if you're considering shooting within Nikon's DX-format mirrorless system the Z50 is worth a long, hard look.
Pros:
Well-designed handgrip
Good for stills and video
Fast, reliable autofocus
Cons:
Few native DX-format Z lenses
Single card slot
Best for: beginners and travel photographers
Read our Nikon Z50 Review
The best mirrorless cameras for enthusiasts
This is where the fun begins. Here, we've compiled some of our favourite mirrorless cameras for enthusiasts, intermediate users and those who generally know a little about what they're doing. These cameras offer a level of depth and control exceeding that of most mirrorless models, without the huge price tags of the pro cameras (which we'll get to next). These cameras can be a great upgrade for anyone already invested in a particular system or brand, but sometimes they are good enough to tempt users to switch brands altogether.
Fujifilm X-T5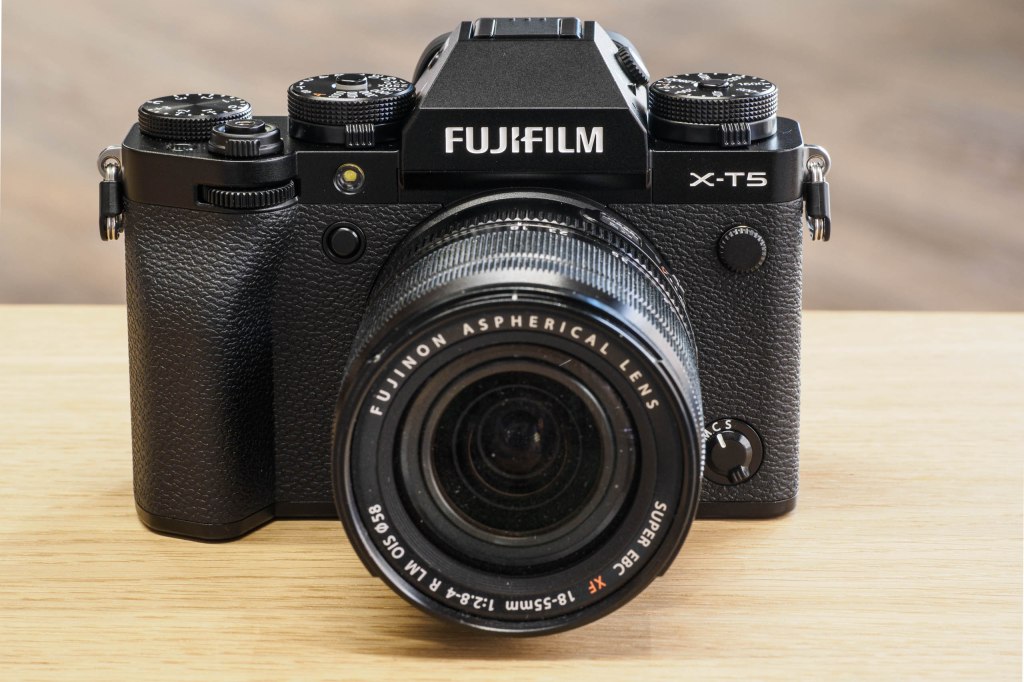 At a glance:
40.2MP APS-C X-Trans CMOS 5 HR sensor
Fujifilm X lens mount
15fps shooting (mechanical shutter); 20fps (electronic shutter, 1.3x 24MP crop)
6.2K 30p / 4K 60p video
$2,160 / £1,699 body-only
With the X-T5, it felt a little like Fujifilm was returning to its roots. A succession of video-leaning cameras for hybrid shooters had left purist stills photographers feeling a little left behind, and so it was a thrill when the firmly stills-oriented X-T5 made its debut in 2022. While everyone was pleased to see it sport the classic top-dial control system that has been wowing X-T enthusiasts since 2014, the real headline feature was the sensor.
The X-T5 arrived with the same 40MP sensor as the Fujifilm X-H2, providing a serious resolution upgrade over the 26.1MP X-T4. Along with this, it gained sophisticated subject-detection autofocus, capable of picking out and locking onto specific subjects like humans, animals and vehicles.
A true enthusiasts camera
Like many Fujifilm models, the X-T5 is just a downright enjoyable camera to use. Its 3-way tilting screen and high-quality viewfinder give you plenty of image composition options, and image quality is terrific both in RAW and JPEG formats. Fuji's excellent Film Simulation modes are present and correct, allowing you to imbue your images with the specific character of analogue stocks like Velvia and Astia. When it comes to producing great images straight out of camera, ones that are ready to share with no real editing required, no one does it better than Fujifilm.
More reasonably priced than either of the X-H2 cameras, the Fujifilm X-T5 is an exceptional enthusiast's camera. It's fully featured across the board, with fast burst rates, plenty of resolution and… well, we could go on. A resounding home run by Fujifilm.
Pros:
Superb quality in JPEG and RAW
Terrific handling
Subject-detection autofocus impresses
Cons:
Buffer fills quickly at full resolution
High-res multi-shot mode needs work
Read our Fujifilm X-T5 review.
Best for: enthusiast stills photographers and those who like an analogue-style experience
Panasonic Lumix G9 II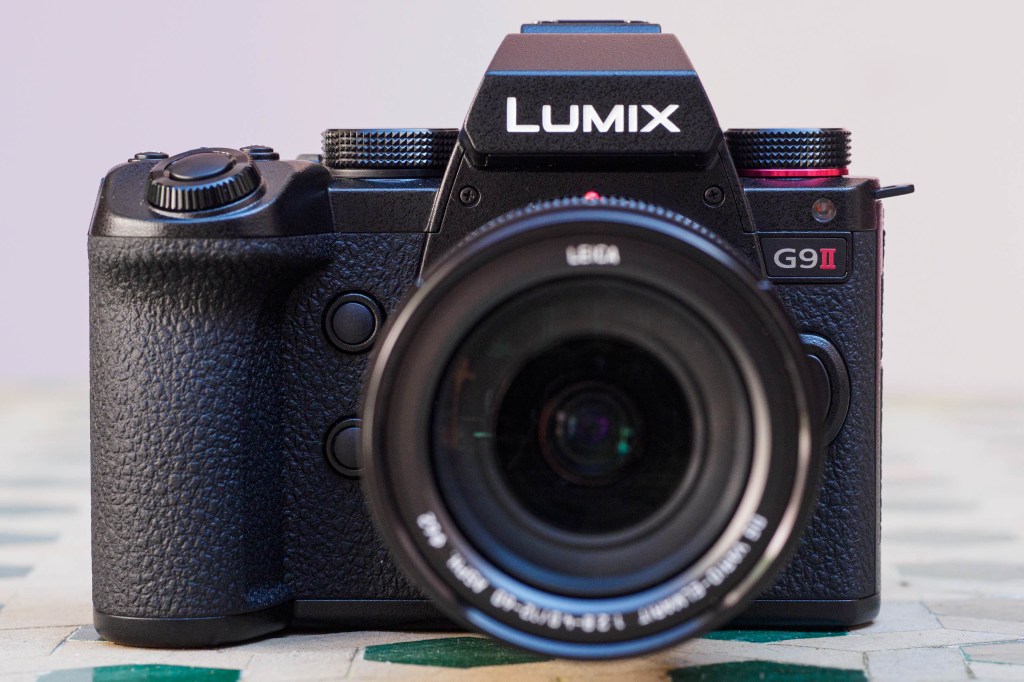 At a glance:
25.2MP Four Thirds sensor
Micro Four Thirds lens mount
Up to 75 fps shooting (AFS + electronic shutter)
5.7K 60p and 4K 120p video recording
$1,897 / £1,699 body-only
One of Panasonic's newest releases, the Lumix G9 II came as welcome assurance that the manufacturer is still committed to the Micro Four Thirds format, even with the increased focus on its newer line of full-frame Lumix S cameras. Indeed, it looks like Panasonic is now feeding some of the developments it has made in the full-frame line back into the Lumix G series, as the Lumix G9 II inherits quite a bit of DNA from the Lumix S5 II, which debuted at the start of 2023.
For a start, there's the body design; the Lumix G9 II looks a lot more like the Lumix S5 II than it does the previous Lumix G9 from five years ago. There's no cooling fan, and the smaller mount allows the design to squeeze in an extra function button, but otherwise this model handles pretty much exactly like its full-frame sibling. The placement of the 8-way AF joystick is well-chosen, making for intuitive operation. There's a lovely big 3.68m-dot OLED viewfinder, and a 3in, 1.84-dot vari-angle touchscreen, providing additional options for composition.
Phase-detection autofocus
Probably the most significant addition to the Lumix G9 II is the introduction of phase hybrid autofocus. The Lumix G9II is the first Panasonic-made Micro Four Thirds camera to receive this, finally replacing the ageing, contrast-based Depth from Defocus system the firm had been sticking by for years. Boasting 779 phase-detect focus points that cover the entire frame, this system promises to be faster and more accurate. It also benefits from AI-powered subject-detection system that's able to recognise and lock onto specific subjects like humans, animals and vehicles.
While we're still working on our full review of the Lumix G9 II, we were able to test out the camera at Port Lympne Safari Park. We came away impressed, especially by the phase-detection autofocus and the subject-recognition system. The Lumix G9 II is looking like a tremendous boost for Micro Four Thirds as a system for serious enthusiasts, and a compelling alternative to cameras like the OM-System OM-1. It's built for speed, with 8-stop stabilisation and burst mode that can reach speeds of 75fps.
Pros:
Great design with sensible control layout
Fast autofocus and up to 75fps burst
Extensive range of MFT lenses
Cons:
Lack of cooling fan limits recording times
Full-frame Lumix S5 II isn't that much more expensive
Best for: Wildlife, action photography
Read our initial Panasonic Lumix G9 II review with first impressions
OM System OM-5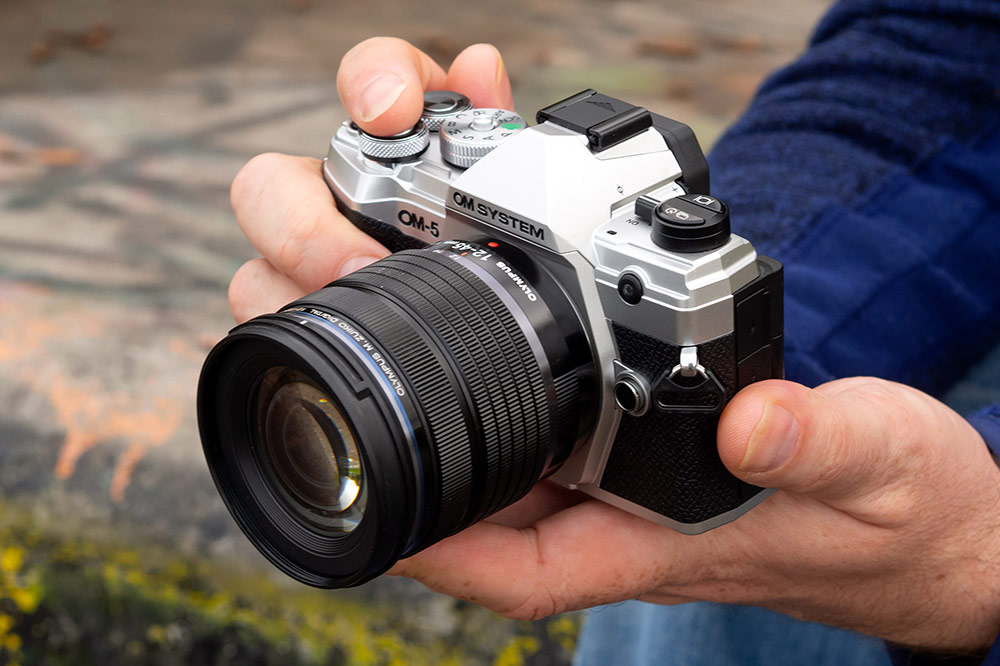 At a glance:
20.4MP Four Thirds sensor
Micro Four Thirds lens mount
30fps shooting (10fps with C-AF)
4K 30p video
$1,524 / £1,199 body-only
The second camera out of the gate in OM-System's regeneration of the Olympus brand (you'll meet the first one shortly), The OM-System OM-5 can be seen as a replacement for the enthusiast-focused Olympus OM-D E-M5 Mark III, with a few replacements and updates that make it especially appealing as a travel camera. For a start, it's got the feature that is fast becoming ubiquitous on all OM-System cameras and lenses – IP53 weather sealing. This is some of the most comprehensive weather sealing you can get on any camera in this class, and means you can take the OM-5 into basically any shooting situation without worry.
In addition to publishing our full review, we also had our editor Nigel Atherton conduct an OM-System OM-5 field test on an extended trip to Cape Town in South Africa to see how it fares as a travel camera. With features like Starry Sky AF for night-time photography, as well as intuitive touchscreen AF-point selection and 10fps shooting with continuous autofocus, it proved itself adept in a host of shooting situations. The only real sticking point was the battery life – while Nigel never quite hit the 300-shot stated limit in a day's shooting, he still felt it necessary to keep hold of a spare.
A real all-rounder
The selection of Micro Four Thirds lenses is one of the most expansive in the business, and will allow you to kit yourself out for any situation. With excellent stabilisation, beefed-up video features and superb JPEG output straight out of camera, the OM-System OM-5 is a camera for doing a bit of everything, and doing it well.
Pros:
Class-leading weather sealing
Huge array of lens options
Images look great straight out of camera
Cons:
Relatively short battery life
Buffer fills up fast at 30fps
Best for: travel and outdoor photography and video
Read our full OM-System OM-5 review.
Panasonic Lumix GH6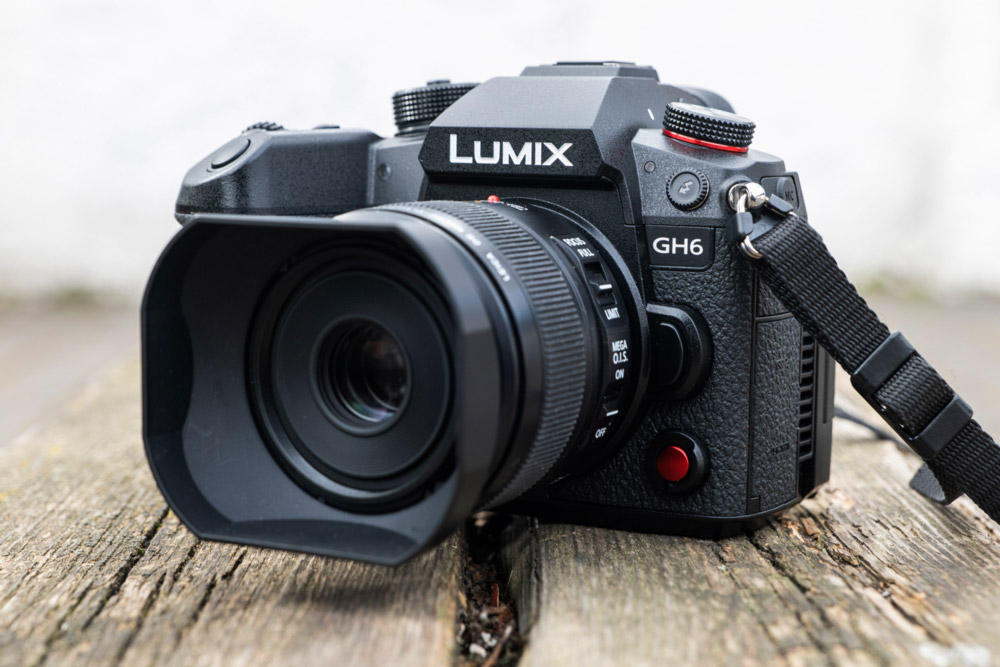 At a glance:
25.2MP Four Thirds sensor
Micro Four Thirds lens mount
75fps shooting (electronic shutter, fixed AF), 8fps (with C-AF)
5.7K 60p video
$2,033 / £1,599 body-only
Rumours of the death of Micro Four Thirds proved greatly exaggerated when Panasonic dropped this rip-roaring update to the video-focused GH series. The Panasonic Lumix GH6 builds on the legacy of the GH4, which was one of the first consumer cameras to offer 4K video, and is one of the best vlogging and filmmaking cameras you can buy right now.
Filmmaking codecs
The big upgrade here is codecs – the Lumix GH6 offers pretty much every filmmaking codec that anyone could desire, including Apple ProRes, as well as the V-Log colour profile. You can shoot Full HD at up to 300fps, and 5.7K video at up to 60fps, and really, do just about anything else you want to do, video-wise. It's such a full featured cine camera that it's incredible it only comes with a price tag of £1,999. It's going toe-to-toe with full-frame cameras that cost twice as much.
In our review, we found little to criticise. It's slightly disappointing that Panasonic stuck with the dated contrast-based Depth From Defocus autofocus system, and maybe 6K Photo Mode would have been nice. But this is a hell of a camera, especially for filmmakers.
Pros:
Incredible suite of video options
Excellent value for money
Superb stabilisation
Cons:
Dated autofocus system
Smaller sensor won't appeal to everyone
Best for: filmmakers
Read our Panasonic Lumix GH6 review
OM System 'Olympus' OM-1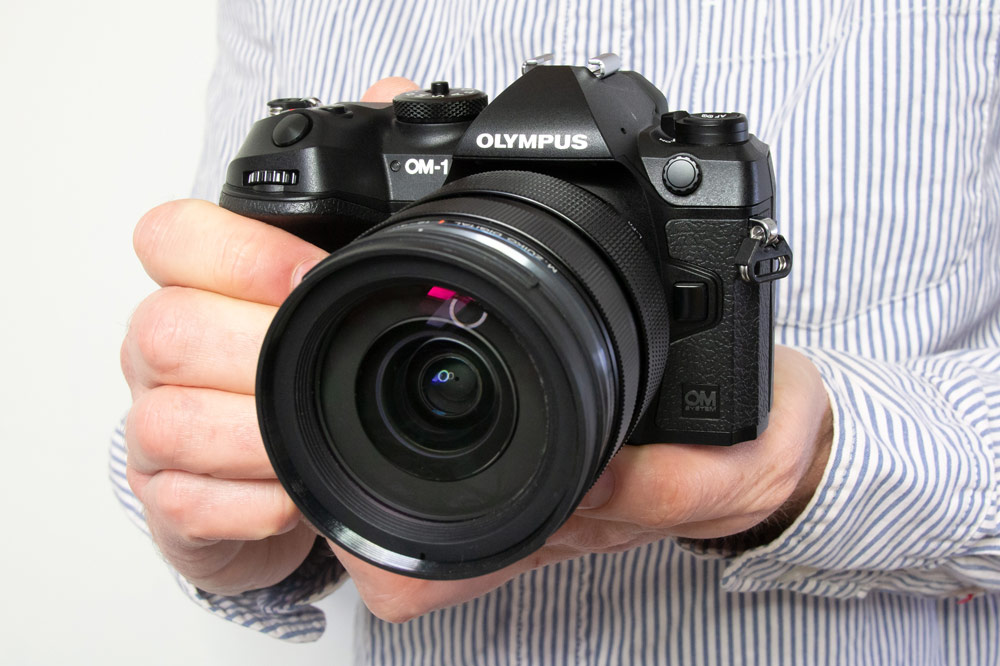 At a glance:
20MP Four Thirds Stacked BSI Live MOS sensor
Micro Four Thirds lens mount
50fps with C-AF, up to 120fps fixed AF
Cine 4K 60p video
$2,516 / £1,979 body-only
The OM System 'Olympus' OM-1 is OM Digital Solutions' 2022-launched E-M1 III update, with a brand-new, never before seen 20MP Stacked BSI Live MOS sensor, updated body design, high-resolution OLED EVF, updated vari-angle touch-screen and a completely redesigned menu system.
The new sensor, along with a new image processor, allows for high-speed continuous shooting, at 120fps at full-resolution, an improved ISO range, (up to ISO 102,400), which OMDS say will give up to 2 stops noise improvement, as well as one extra stop of dynamic range. In-body Image Stabilisation (IBIS) has long been a feature of Olympus cameras, and using 5-axis Sync IS with a compatible lens will give up to 8 stops of correction. When using a non-sync lens, you can expect up to 7 stops of IS.
Intuitive button layout
The controls are all neatly positioned to make them easy to reach, and you have direct access to the most important settings, with dedicated ISO, Exposure compensation, and AF-ON buttons. There's a dedicated video record button, and the majority of buttons and controls can be customised to your own personal preferences. The ISO button also doubles as image rating button in playback, so you can quickly give images a star rating out of 5.
The camera body has a solid metal construction, and with multiple seals it offers improved weather-sealing than other Olympus cameras, being the first to offer an IP53 rating being both dust- and splash-proof when used with specific PRO lenses.
If you enjoy shooting with Olympus cameras, then the refinements made with the OM-1, along with the improved image quality, features, and improved video options, makes this camera a real joy to use, with the updated menu systems another welcome change. Without doubt, the OM System OM-1 is the best Micro Four Thirds camera currently available (as of June 2022), and goes beyond what you would expect from a £2000 camera in terms of subject detection AF, high-speed performance, and the sheer number of useful shooting features available.
Pros:
Highly effective stabilisation
Rugged weatherproofing
Exceptional autofocus
Cons:
Menus not touch-sensitive
'Only' 20MP
Best for: outdoor photographers, especially bird photographers
Read our OM System 'Olympus' OM-1 Review
Fujifilm X-H2S
At a glance:
26.2MP APS-C stacked BSI CMOS sensor
Fujifilm X lens mount
40fps shooting
6K 30p video recording
$3,050/ £2,399 body only
The high-spec, high-performance Fujifilm X-H2S absolutely shows off what's best about APS-C. It's great for sports, great for wildlife and great for action, with a stacked 26.2MP X-Trans CMOS sensor that enables super-fast readout speeds. It's an incredibly ambitious camera, capable of shooting at up to 40fps in full-resolution Raw format, and boasting AI-powered subject-recognition autofocus.
As we said in our review, one way that the Fujifilm X-H2S eclipses other APS-C models is in its control layout. Immensely customisable, and robust-feeling in the hand, it's streets ahead of APS-C contemporaries like the Sony A6000 series in terms of handling. The move away from the dial-led controls of other Fujifilm cameras also makes it handle more like a professional model from Canon or Nikon. It really comes into its own when paired with a good telephoto lens like the XF 100-400mm f/4.5-5.6 – you get shooting speeds and real reach in an incredibly lightweight package.
Hefty price
The Fujifilm X-H2S is gunning all-around for a professional user, or at least a serious enthusiast, and this is reflected in the price. At £2,399, it's among the most expensive APS-C cameras ever released. The price is justifiable in terms of what the camera offers – stacked sensors are just expensive to make – but how many people are going to pay it?
Pros:
Impressive shooting speeds
Lightweight but powerful setup
AI-powered autofocus
Cons:
Intimidating price for APS-C
Best for: action shooters who want a light setup
Read our Fujifilm X-H2S review
Nikon Z6 II
At a glance:
24.5MP full-frame BSI-CMOS sensor
Nikon Z lens mount
14fps shooting
4K video
$2,631 / £2,069 body-only
This remarkably versatile full-frame mirrorless camera boasts a 24.5MP sensor, a 273-point phase detection AF system and fast burst shooting up to 14fps. Users will be bowled over by the excellent electronic viewfinder, as well as the quality of the images produced.
On the outside, the Z6 II looks almost identical to its Z6 predecessor, and uses the same image sensor too. But, crucially, it gains a second card slot that accepts the cheaper and widely compatible SD format. The cards can be used in backup, overflow or segregated recording modes. The Z6 II also boasts dual Expeed 6 processors, which provide improved autofocus, meaning that face and eye tracking is now available during video recording for both humans and animals.
Superb control layout
DSLR users will find all the key buttons and dials that they expect, including twin electronic controls dials for changing exposure settings (one each under the forefinger and thumb), a well-placed AF-area joystick and AF-ON button, and top-plate ISO and exposure compensation buttons.
Key features include a dust and drip resistant body design for use in demanding conditions, and 5-axis in-body image stabilisation to help keep both still images and video footage sharp, no matter what lens you use. This includes both native Z-mount optics, and the huge range of F-mount SLR lenses that can be used via the FTZ mount adapter. You also benefit from 5-axis In-Body Image Stabilisation, and 4K video recording.
Pros:
Dual card slots
Improved tracking AF
Rapid continuous shooting
Cons:
Not a huge jump over Z6
Non-articulating screen
Best for: enthusiasts
Read our Nikon Z6 II review
Sony A7 IV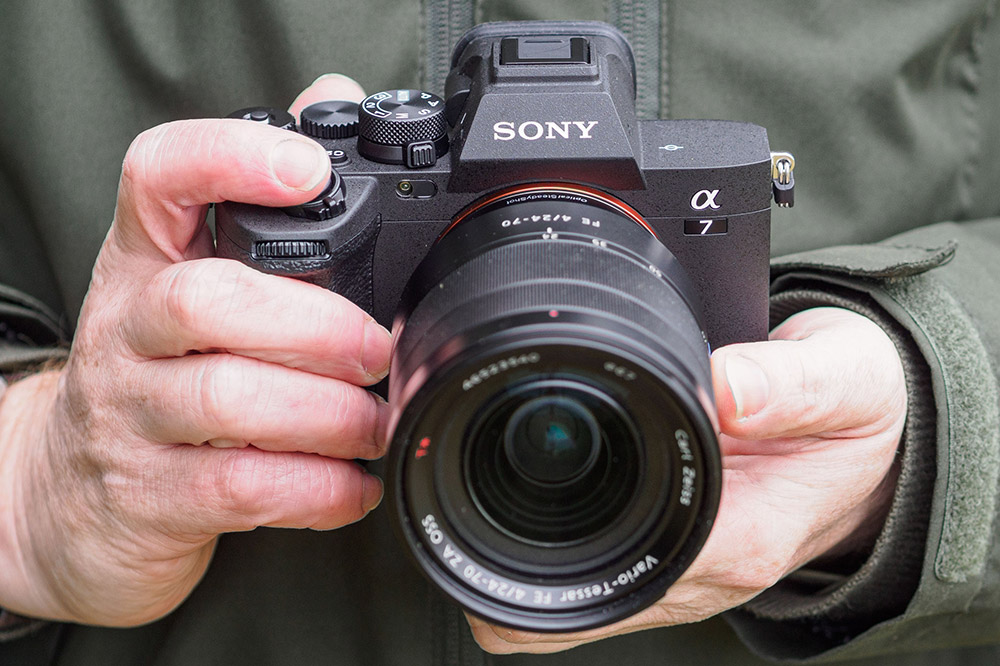 At a glance:
33MP full-frame sensor
Sony FE lens mount
10fps shooting
4K 30p video
$3,050 / £2,399 body-only
While many of Sony's full-frame Alpha mirrorless cameras are specialists, the A7 models are good at a bit of everything. And the A7 IV is really, really good at a bit of everything. Its 33MP sensor captures a generous level of detail; its 10fps burst-rate, while not class-leading, is more than enough for a lot of users. ISO performance is generally very good, with even images at 25,600 being usable with a bit of processing. Good work across the board.
There's plenty more we could heap praise on here, and it's worth reading our full review to get a detailed understanding of this camera, as you start to get a sense of how it comes together. That 10fps burst rate, for instance, is paired with a buffer depth that's effectively unlimited if you're using a memory card that's fast enough to keep up.
Really, our only bugbear with the A7 IV is something that's common to pretty much all Sony cameras – the convoluted, unintuitive menu systems that make it needlessly hard to navigate. It's just something you'll need to get used to.
Pros:
Does everything well
Good high-ISO performance
Huge buffer depth
Cons:
Complicated autofocus system
Menus are hard to navigate
Best for: hybrid photo/video content creators
Read our Sony A7 IV review
Nikon Z7 II
At a glance:
45.7MP full-frame BSI CMOS sensor
Nikon Z lens mount
10fps shooting (Single AF)
4K 60p video
$3,750 / £2,949 body-only
The Nikon Z7 II improves over the original Nikon Z7 in a number of subtle but important ways, making an already very good camera, even better. The camera now features improved continuous shooting, dual card slots, and face/eye/animal detection AF.
There's a 45.7MP full-frame sensor that provides stunning image quality, backed up by 5-axis in-body image stabilisation and fast, accurate autofocus. The viewfinder is superb, and F-mount SLR lenses can be used via the FTZ adapter. The high-resolution sensor will be appealing to landscape photographers or anyone that craves a serious amount of detail. It's also useful for cropping if you want to shoot from a distance, too.
A sheer delight to use
You get up to 10fps shooting which, while not superb for action, isn't too bad if it's not something you shoot relatively often. But if you're frequently shooting action, the Z6 II and certainly the Z9 cameras are probably better choices within Nikon's mirrorless range. It can also shoot 4K video, albeit with a crop.
The Z7 II feels fantastic in the hand and is a delight to pick up and use. Then there's its fabulous image quality, which is remarkably impressive and offers magnificent latitude when processing Raw files. This is a fantastic all-rounder, which works well for professionals and dedicated enthusiasts who perhaps don't have the need or the budget for a Z9.
Pros:
Well-designed body
Second card slot
Excellent viewfinder
Cons:
Minor refresh on Z7
Crop on 4K 60p video
Best for: wedding and event photographers
Read our Nikon Z7 II Review
Canon EOS R6 Mark II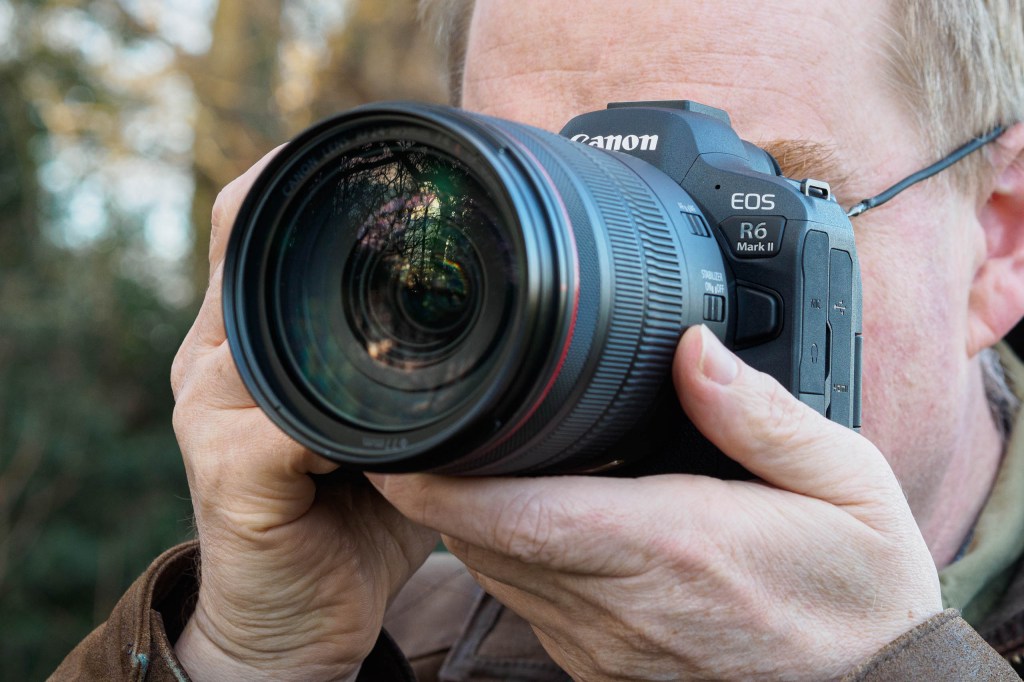 At a glance:
24.2MP full-frame sensor
Canon RF lens mount
40fps shooting
4K 60p video
$3,533 / £2,779 body only
The original Canon EOS R6 was already a superb full-frame all-rounder, one that scooped our Product of the Year award back in 2021. As such, you can hardly blame Canon for not exactly reinventing the wheel when it came time to bring out the EOS R6 Mark II. This version makes relatively few changes to what was already a superb camera, but the ones it does make are well-chosen, making it one of the best all-around cameras for enthusiasts and professionals.
For a start, while the previous model had a 20MP sensor, this one ups it to a 24.2MP full-frame chip. That may not sound like much, but it makes a real difference when it comes to cropping and printing, and should satisfy the stills shooters who felt that 20MP was perhaps a little on the stingy side.
Subject-detection autofocus
Elsewhere, the EOS R6 II gets what was the must-have feature of the year 2022: subject-detection autofocus, powered by AI to lock onto specific subjects with unerring accuracy. This combines beautifully with the increased burst rates – the EOS R6 Mark II can rack up to 40fps with its electronic shutter, or a still-respectable 12fps full-resolution RAW with the mechanical shutter if you don't want to run the risk of rolling shutter or distortion (which can happen).
DSLR holdouts will likely find themselves mightily tempted by the EOS R6 Mark II. It's handling is excellent, with a large, deep handgrip and loads of external physical controls. The viewfinder is lively and responsive with a 120fps refresh rate, while the LCD screen can be set to face almost any angle.
In terms of its ability to shoot, well, anything, the EOS R6 Mark II. It's on the expensive side for an enthusiast's camera, but at the same time, it's difficult to think of another camera at this price point that's this good at everything. Build up a solid set of RF lenses and you've get a setup to tackle all situations.
Pros:
Excellent design and handling
Shoots and focuses like a demon
Very impressive image quality
Cons:
RF mount lacks third-party AF lenses
Some shutter distortion with electronic shutter
Best for:
Read our Canon EOS R6 Mark II review
Best mirrorless cameras for professionals
And at last, here we are at the best of the best. In this section, you'll find mirrorless cameras commanding pretty serious prices – but that makes sense given that these are designed for professional photographers and videographers. Here you'll find dazzlingly high megapixel counts, full-frame sensors (and larger), super-fast burst rate and AI-powered autofocus systems intelligent enough to recognise specific subjects.
Nikon Z8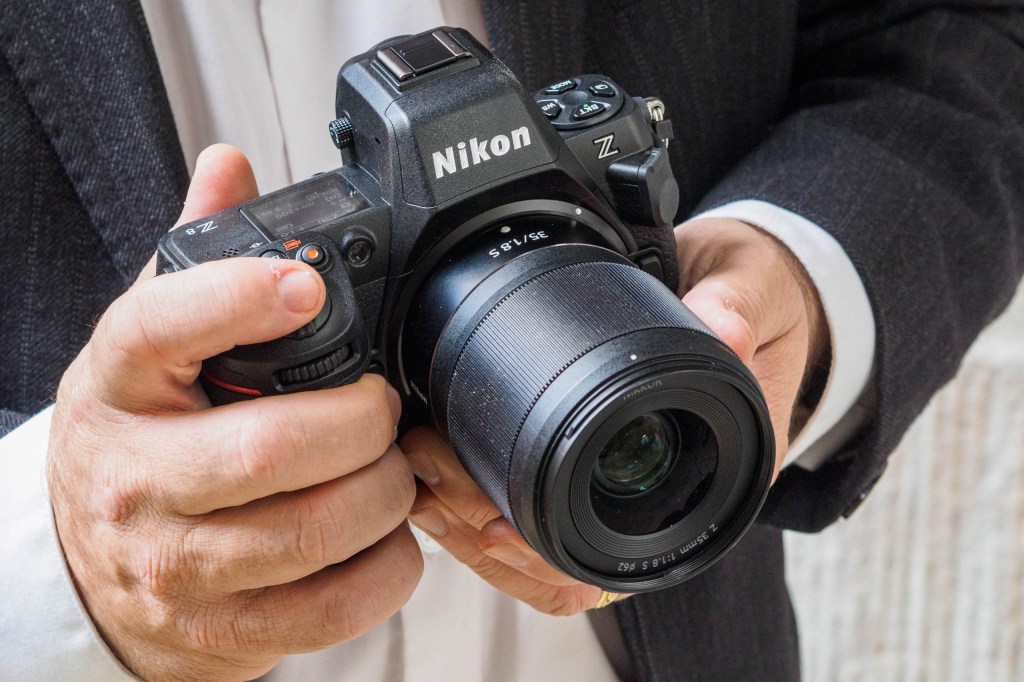 At a glance:
45.7MP full-frame stacked CMOS sensor
ISO 64-25,600 (standard)
20 frames per second shooting in raw
3.69m-dot, 0.8x viewfinder
3.2in, 2.1m-dot 3-way tilting LCD
8K 30p video recording
$5,085 / £3,999 body only
The first in our list of the best professional full frame mirrorless cameras is also the newest, and perhaps the one that has impressed us the most. The Nikon Z8 is effectively a Nikon Z9, but in a smaller, more normal-sized body. The Z9 has impressed us as a professional sports/action camera and its integrated grip is typical of cameras in this very specialized sector. But that makes the Z9 a little unwieldy for normal use and packing in regular camera bags.
It's also quite expensive, and that's what makes the Z8 even more extraordinary. Somehow, Nikon has managed to pack much of the technology that makes the Z9 so remarkable into a much smaller body, but without any great sacrifices in performance.
All-round capabilities
In short, the Z8 is a consummate all-round performer, specialising in three areas that would once have needed three different cameras. Its 45.7MP sensor delivers high resolution images, while its stacked CMOS sensor also allows burst rates of 20fps with full resolution raw files, 30fps with JPEGs and up to 120fps with smaller 11MP. Nikon's latest AI subject detection is remarkably effective too, so here's a high-resolution camera that can be used like a high speed sports camera too.
And as if that wasn't enough, the Z8 can also capture 8K video. That's probably too much for most videographers' workflows right now, and if you swap to 4K instead, the Z8 can go right up to 120fps.
The Nikon Z8's amazing all-round capabilities remind us of the Sony A1, the first pro powerhouse to combine resolution, speed and 8K video (the Canon EOS R5 too), but the Z8 is a lot cheaper, and its AI autofocus is just as good as it gets right now.
Pros:
Very high resolution
Impressive 20fps burst shooting
8K video capture
AI subject detection AF
Cons:
The Z7 II offers the same resolution for a lot less money
Mixed SD and CFexpress card slots won't suit everyone
Best for: all round professional photography
Read our Nikon Z8 review
Sony A7R V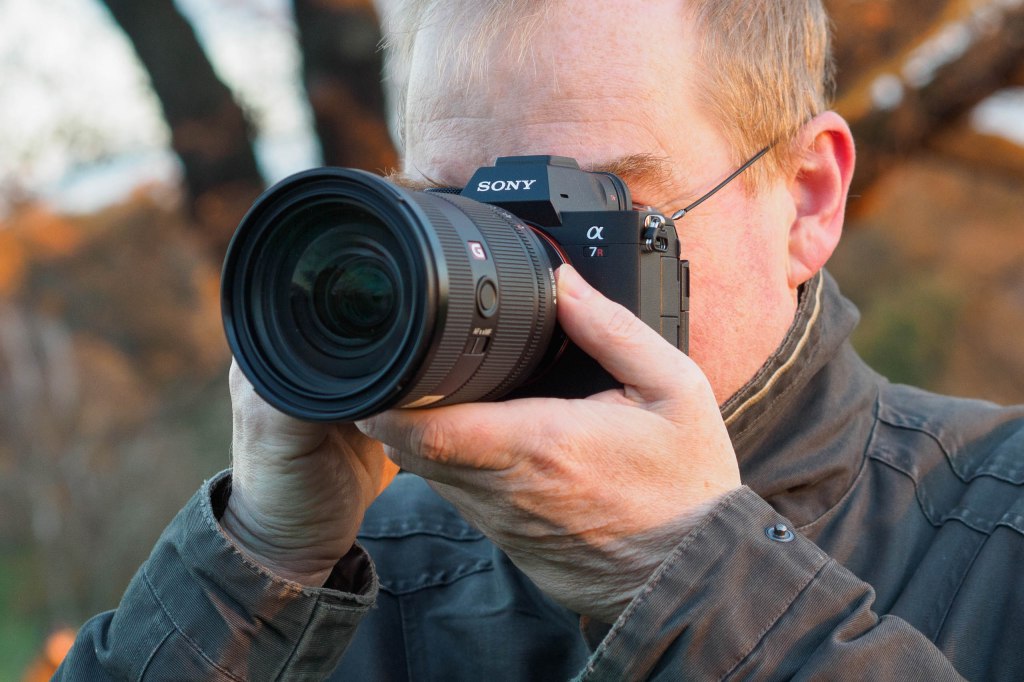 At a glance:
61MP full-frame CMOS sensor
Sony FE-mount
10fps continuous shooting
8K 24fps video
$5,085 / £3,999 body-only
Sony's A7R cameras have long led the way in terms of resolution for full-frame mirrorless, and right now if you want megapixels, the A7R V is your port of call. It sports a full-frame chip with 61MP of resolution to play with – currently only the Sigma fp L has it tied, and nobody at all in the world of full-frame has it beat.
Of course, this was also true of the previous A7R IV / A7R IVA – the Mark V version uses the same sensor as its predecessor. So, as someone staring down the barrel of that $4K price tag might reasonably ask, what exactly is new?
The short answer is everything else. Sony has sensibly decided that most people probably didn't need many more than 61 megapixels (for now, at least), and instead set about upgrading all other aspects of the camera. As such, the A7R V benefits from such up-to-the-minute features as subject-detect autofocus, which we've already seen a few times in this guide. The A7R V isn't exactly a speedster, but with this system and 10fps burst shooting, it does reasonably well with fast subjects, and certainly makes itself credible for more than stately landscapes.
What else is new?
There are external improvements too. The A7R V gets a nice big viewfinder with buckets of resolution, as well as a redesigned screen that combines an up/down tilting mechanism with a fully articulating side hinge. More? Sony also beefed up the in-body stabilisation, which is now rated up to eight effective stops, and can be used in a multi-shot composite mode to produce images up to 240MP in resolution.
The catch is, of course, the price. Sony's line used to be made up of quite specialised models with different functions, but these days all its cameras seem to be good at everything – and come with a price tag that reflects that. Only time will tell whether this is a savvy strategy on Sony's part – and only you can tell whether all the features of the A7R V are worth its intimidating price tag.
Pros:
Highest-resolution full-frame
Reliable subject-detection autofocus
Variable resolution raw recording
Cons:
Sony's menus are still a mess
No in-camera raw conversion
Best for: landscape shooters and print makers
Read our Sony Alpha A7R V full review
Canon EOS R5
At a glance:
45MP Dual Pixel CMOS AF sensor
Canon RF lens mount
20fps continuous shooting
8K 30p video
$5,466 / £4,299 body only
An incredibly impressive stills camera, the EOS R5 is one of the very best mirrorless cameras ever launched by Canon to date. The combination of a multi-controller (joystick), a rear thumb dial and dual card slots help make the R5 seem like a mirrorless version of the 5D Mark IV, but with the added benefit of a vari-angle touchscreen.
The EOS R5 has the ability to shoot 45MP files at a staggering 20fps in silence with full AE and AF tracking using its electronic shutter. Switch over to the mechanical shutter and the EOS R5 rattles out a burst at a brisk 12fps. It has a deep buffer to handle the high volumes of data, and records to a CFexpress card that allows maximum transfer speeds of up to 1.97GB per second and up to 180 uncompressed Raw files to be recorded continuously at 20fps. A second UHS-II compatible SD card slot is added for backup purposes, or separating still images and video between cards.
In-body image stabilisation (IBIS)
A breakthrough on the EOS R5 was the introduction of in-body image stabilisation (IBIS), which was lacking on both the EOS R and EOS RP. Canon claims it offers up to 8 stops effectiveness when paired with certain RF mount lenses, such as the RF 24-70mm f/2.8L and RF 28-70mm f/2L. In instances where the EOS R5 is used with Canon lenses that feature optical image stabilisation (IS), the lens corrects yaw and pitch while the body compensates for roll around the lens axis along with vertical and lateral movements.
It also has a superb AF system and, overall, is a remarkably accomplished stills camera. It's only the much-reported overheating issue when shooting long 8K (30fps) and 4K (up to 120fps) video clips that prevented it from getting a maximum five stars in our review.
Pros:
Exceptional autofocus
8K video
Silent 20fps shooting
Cons:
Much-publicised overheating issue
Expensive
Best for: getting the most video resolution
Read our Canon EOS R5 Review
Nikon Z9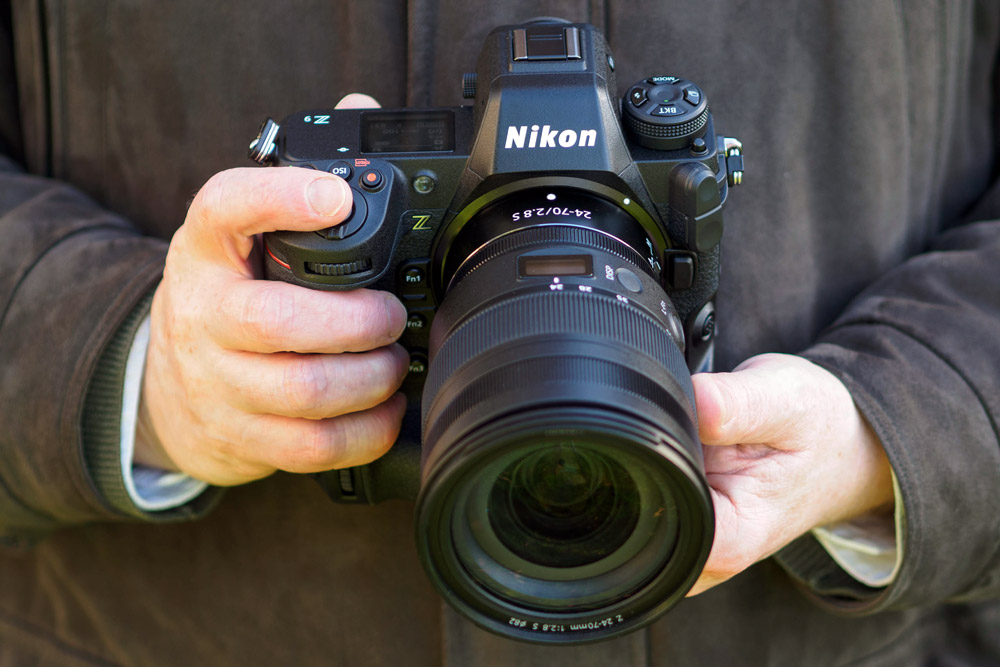 At a glance:
45.7MP full-frame stacked CMOS sensor
Nikon Z lens mount
120fps continuous at 11MP
8K 30p video
$6,738 / £5,299 body only
The Z9 is Nikon's new flagship professional full-frame mirrorless camera. It's capable of shooting 45.7MP images at 20 frames per second in raw (for more than 1,000 frames in a row), or 30fps in JPEG, with continuous autofocus tracking. A new AI subject detection AF system is capable of recognising multiple kinds of subjects, and the camera can also record 8K video for several hours without overheating.
In fact, the Nikon Z9 offers a combination of high-end specifications and professional-level build that simply hasn't been seen before. Drop the resolution to 11MP, and the Z9 will run at an astonishing 120 fps. Crucially, it promises the pro-level control setup and extreme durability that's essential for photographers who make a living from their cameras.
Low-distortion electronic shutter
Technically, the Z9 breaks new ground in being the first camera of its type to eliminate the mechanical shutter completely. Instead, it relies entirely on a high-speed, low-distortion electronic shutter that's enabled by its use of a stacked CMOS sensor. Both the Sony Alpha 1 and Canon EOS R3 employ similar technology, but only Nikon has been brave enough to take it to its logical conclusion.
Previously, Nikon split its pro DSLR lines between high-speed sports and action models and high-resolution cameras for wedding, portrait and studio work. But with the Z9, Nikon has aimed to produce a single camera that can do anything a professional photographer might need. It is, arguably, the first mirrorless model to put itself forward as a complete replacement for any professional full-frame DSLR.
You could argue that the Z9 doesn't actually do very much that the Sony Alpha 1 doesn't already offer, but the big difference is its chunky, robust build, integrated vertical grip for shooting with large lenses, and the familiar design and handling for long-term Nikon users. It'll also work with their F-mount DSLR lenses via the FTZ2 adapter.
Pros:
Integrated vertical grip
Up to 120fps
And 20fps full-res RAW
Cons:
Best for: sports professionals
Read our Nikon Z9 Review
Fujifilm GFX100s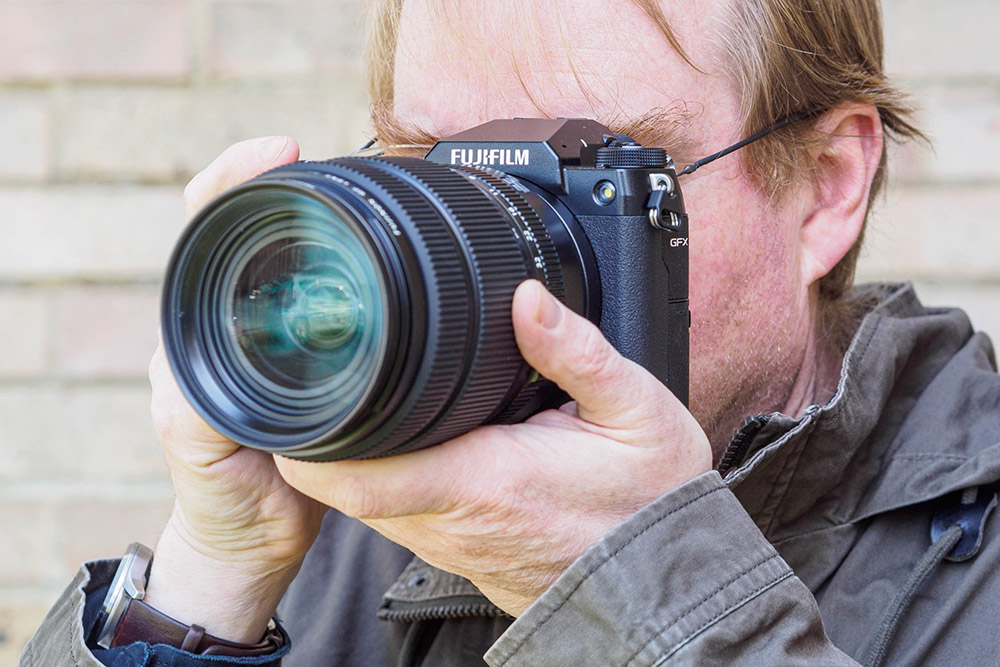 At a glance:
102MP medium-format CMOS sensor
Fujifilm G lens mount
5fps continuous shooting
4K 30p video
$6,992 / £5,499 body only
Before the introduction of the Fujifilm GFX100S, you would have had to spend £10,000 on the Fujifilm GFX100 in order to buy a 100MP medium format camera. Now, with the GFX100S, Fujifilm has made high-resolution medium format much more accessible, and what's impressive is that the camera is similar in size to a full-frame DSLR.
In terms of imaging hardware, the GFX100S employs the same 102MP back-illuminated sensor and X-Processor 4 combination as the GFX100. This impressive pixel count allows you to make prints almost a metre wide at a critically-sharp 300-ppi output resolution, and considerably larger if they're not going to be examined so closely.
Colour science
One of the biggest attractions of Fujifilm cameras lies with the firm's peerless colour science, as delivered through its Film simulation modes. These deliver a broad array of attractive colour looks that each have their uses for different subjects. New on the GFX100S is Nostalgic Neg, which is supposed to hark back to colour negative film; think Kodak Gold and you won't be far wrong. But there's also the punchy, saturated Velvia for landscapes, two ProNeg options for subtle, muted portraits, the superb Acros for black & white or Astia for everyday shooting.
With built-in 5-axis image stabilisation, you can also shoot the camera handheld, and get impressive results, without the normal post-processing required from more traditional medium format camera. On-chip phase detection provides rapid autofocus, and there is a growing range of GF-mount lenses.
For photographers who need to shoot in the field without compromising on image quality, there's nothing else like it. This camera delivers sumptuous image quality in a remarkably easy-to-use package, which takes up no more space in your bag than a high-end full-frame DSLR.
Pros:
Incredible resolving power
Affordable for medium-format
Gorgeous film-simulation modes
Cons:
Slower than full-frame cameras
Best for: resolution above all else
Read our Fujifilm GFX100S Review
Canon EOS R3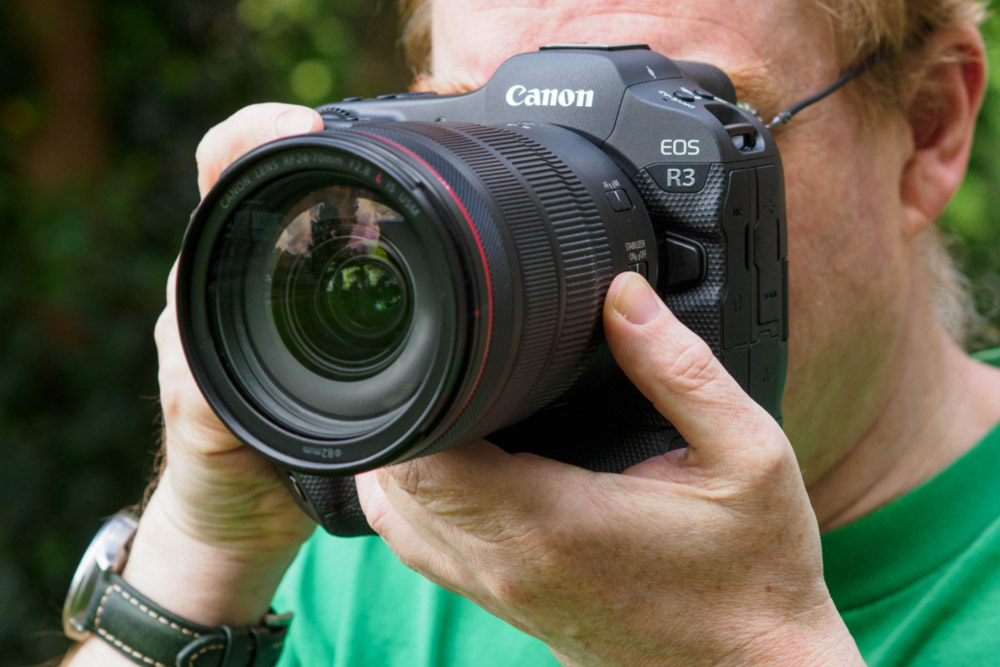 At a glance:
24.1MP full-frame stacked CMOS sensor
Canon RF lens mount
30fps shooting (electronic shutter)
6K 60p video
$7,196 / £5,659 body only
The EOS R3 is Canon's new super-fast, action-focused, professional full-frame mirrorless camera. Indeed, the firm says this is the fastest and most capable camera it has ever made, being capable of shooting at 30 frames per second in full resolution 24MP raw. It can also record 6K raw video at 60 frames per second.
The EOS R3 is built around an all-new 24.1MP full-frame stacked CMOS sensor, which offers a standard sensitivity range of ISO 100-102,400 (expandable to ISO 50-204,800). The stacked architecture brings remarkable speed, including a world-record top shutter speed of 1/64,000sec, and the ability to combine flash with the silent electronic shutter at a sync speed of 1/180sec. The shutter lag is just 20ms, which is so short that Canon offers a menu option to lengthen it to match its DSLRs.
But arguably its most exciting feature is a new twist on an old Canon technology, eye-control focus. This means the camera can detect what the user is looking at in the viewfinder, and then autofocus on it. This futuristic-sounding feature was found on several of Canon's 35mm film SLRs in the 1990s, but the big difference lies in the way it now works in concert with subject recognition technology.
Eye control AF
Eye Control AF employs an array of infrared LEDs to determine where you're looking in the viewfinder, which is indicated by a circular blue cursor. The camera then uses this information to select a subject for tracking when the shutter button is held half-pressed. The system must be calibrated to each photographer's eye, but this is straightforward.
As is becoming increasingly standard, 5-axis in-body image stabilisation (IBIS) is built in. This works together with optically stabilised lenses to provide up to 8 stops of stabilisation (according to CIPA standard ratings). There's no IBIS-based high-resolution multi-shot mode, but given the camera's target audience, that's no great surprise (or loss).
The Canon EOS R3 is an intoxicatingly brilliant camera to shoot with. It boasts one of the most sophisticated autofocus systems around, but makes it remarkably easy to use, allowing you to change settings quickly to suit the situation. You can buy the brilliant EOS R6 II for less than half the price, and spend the money saved on some very nice lenses. But for Canon users who demand the ultimate speed and autofocus performance, the EOS R3 is the camera to get.
Pros:
Versatile in all situations
Eye-control focus
Superb stabilisation
Cons:
May not be enough pixels for some
Best for: sports-shooting speedsters
Read our Canon EOS R3 Review
Sony Alpha 1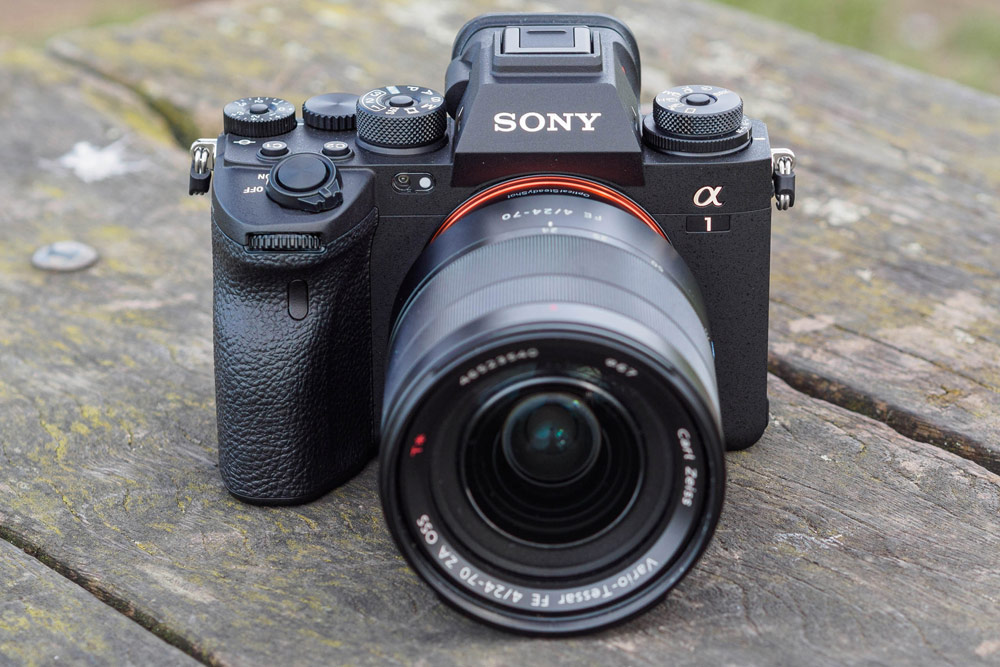 At a glance:
50.1MP Exmor RS CMOS full-frame sensor
Sony FE lens mount
30fps continuous shooting
8K 30p video
$7,475 / £5,879 body only
Sony's latest flagship model, the Alpha 1, boasts the kind of spec sheet that photographers could only dream of before. Previously we've had to choose between resolution or speed, but it delivers both in spades. In terms of pixel count, its 50.1MP full-frame sensor is surpassed in a similar price bracket only by the firm's own 61MP Alpha 7R IV and Fujifilm's 102MP medium-format GFX100S…
However, this is combined with the ability to shoot at a startling 30 frames per second, which can be matched by very few other cameras, and all at considerably lower resolutions. The fact that the Alpha 1 can shoot at 50MP and 30fps while adjusting focus and exposure between frames is unprecedented. Oh, and it records 8K video at 30fps and 4K video recording at 120fps.
Stacked CMOS sensor
Sony built the Alpha 1 around an all-new Exmor RS stacked CMOS sensor, in which three chips are effectively sandwiched on top of each other, with the light-sensitive photodiodes connected first to a memory layer, with a processing layer underneath. In principle, this maximises light capturing efficiency, and enables rapid pixel readout, while keeping electronic read noise to a minimum. As a result, the sensor promises an impressive 15 stops of dynamic range, while providing a standard sensitivity range up to ISO 32,000 (expandable up to ISO 102,400).
You also get an impressively quick autofocus system and 5-axis in-body image stabilisation. With the Alpha 1, Sony rewrote the rule book for what we can expect a camera to do. It offers higher resolution than almost anything else, combined with astonishing shooting speeds. This is backed up by an extraordinary AF system that can track moving subjects with unerring accuracy. The obvious people who will benefit from the ability to shoot 50MP images at 30fps are professional sports photographers. Designed to be the ultimate sports and video camera, the only thing you need to decide is if it meets your needs and is worth the price!
Pros:
Next-generation autofocus
Amazing dynamic range
Superb shooting speeds
Cons:
Best for: high-end professional users who need the best of the best
Read our Sony Alpha 1 review
How to choose the best mirrorless cameras
When looking at mirrorless cameras, you want to weigh up their various specs with your shooting priorities. Having more resolution makes sense if you want to make high-quality prints of your images, but if you're only going to be sharing images online, all those pixels will just slow down your process.
If you want to capture fast action, then a fast burst rate is a must. For low light work, a broad ISO range will help, and you may also want to consider a camera with optical image stabilisation as this allows for the use of slower shutter speeds (thus gaining more light) without blurring the image.
Also, different mirrorless cameras will use a different lens mount, so you may want to look at what lenses are available for a camera before committing.
Sensor size
There are a range of different sensor sizes available for mirrorless cameras – the ones we'll be dealing with are (from smallest to largest): Four Thirds, APS-C, full-frame and medium format. Larger sensors provide better image quality, but cost more, and require bigger cameras. On that subject, mirrorless cameras come in a wide range of different sizes and weights, so have a think about how much weight you're comfortable lugging around. If you need to get your head around sensor sizes, see our guide to APS-C vs full-frame.
Finally, there's video, which is fast becoming the driving force behind new camera development. 4K video capture has become a basic expectation, but some cameras can shoot 6K, even 8K video. Faster frame rates can offer powerful slow-motion effects, and the best cameras can achieve this even at 4K resolution.
Text by Geoff Harris, with contributions from Joshua Waller, Jon Stapley & Michael Topham.
Further reading
Follow AP on Facebook, Twitter, Instagram, and YouTube.