Shimoda has offered women-specific straps for its backpacks for a while, but it's now introduced a range of backpacks that are designed for women and come with the Women's Tech Straps. There are two lines in the Women's series, the Explore v2 backpacks that are available with 25L or 30L capacity, and the Action X v2 backpacks that are available in three capacities (25, 30 and 40L). In this review, we're looking at the Shimoda Women's Series Explore v2 30.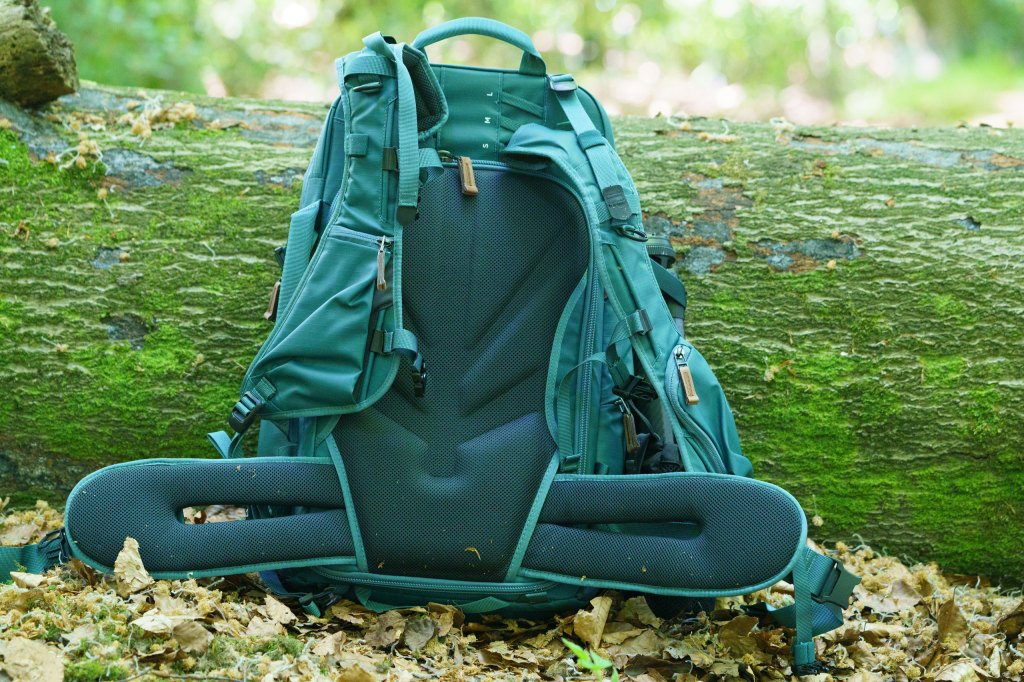 Shimoda Women's Series Explore v2 30 backpack at a glance:
$384.90 / £369
Available in two capacities, 25 or 30L
Modular design
Compatible with Shimoda's Core Units
Female-specific straps
uk.shimodadesigns.com
The Action X v2 packs have a roll-close top and more mounting points or straps than the Explore v2 packs, making them best suited to people wanting to combine their photography with sport such as skiing or mountain climbing. Meanwhile the Explore v2 backpacks have cleaner-looking, more traditional design with a large zip-closed top section with internal organisers, a large main compartment and side-mounting points for a water bottle or tripod.
Shimoda Women's Series Explore v2 30 backpack key features:
Height adjusters:  The straps can be fixed to one of three loops to accommodate the height of the wearer
Rain cover:  The outer fabric has a DWR (Durable Water Repellant) coating but a rain cover is supplied
Rear-opening:  There's a small side opening, but the primary access for the main compartment is from the rear
Twin chest straps:  The straps are shaped to fit the female form and there are two stabilising chest straps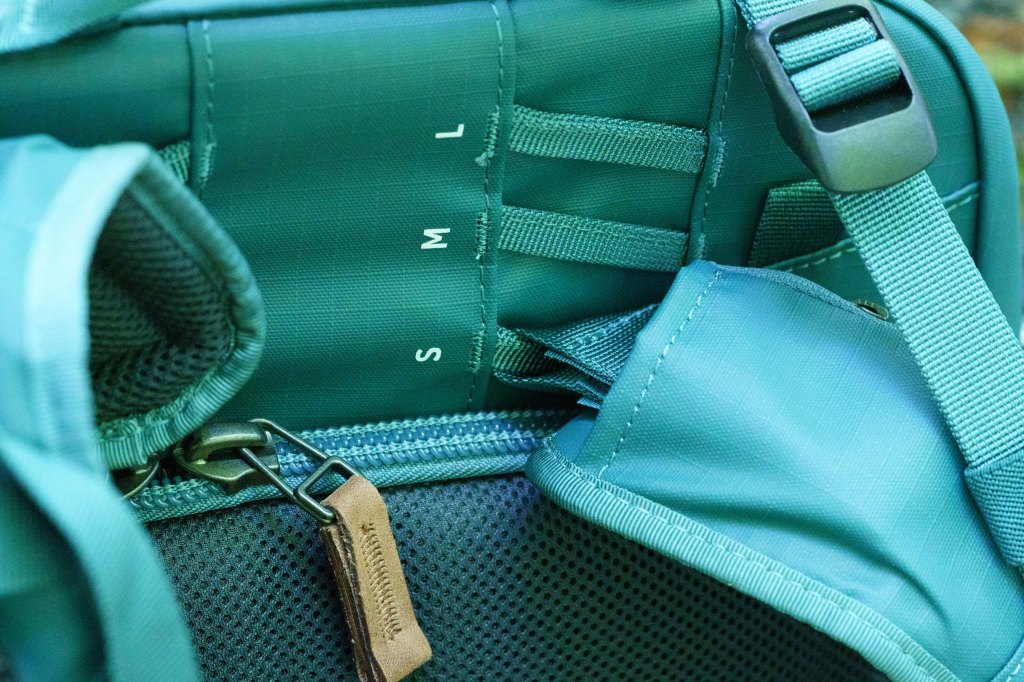 The shoulder straps can be completely removed and swapped for an alternative pair, but the supplied Women's Tech Straps are the company's most advanced and have a couple of useful pockets. They attach to the Explore v2 via one of three loops on either side of the back of the bag. These loops allow the straps to be positioned to suit the photographer's height (or back length). At 5 foot 2-inches, I opted for the shortest setting.
There's also a wide waist belt that can be adjusted to size, or removed completely if you prefer. I would've liked to be able to tighten the belt more than is possible, but it still goes small enough to transfer some of the weight from my shoulders to my hips.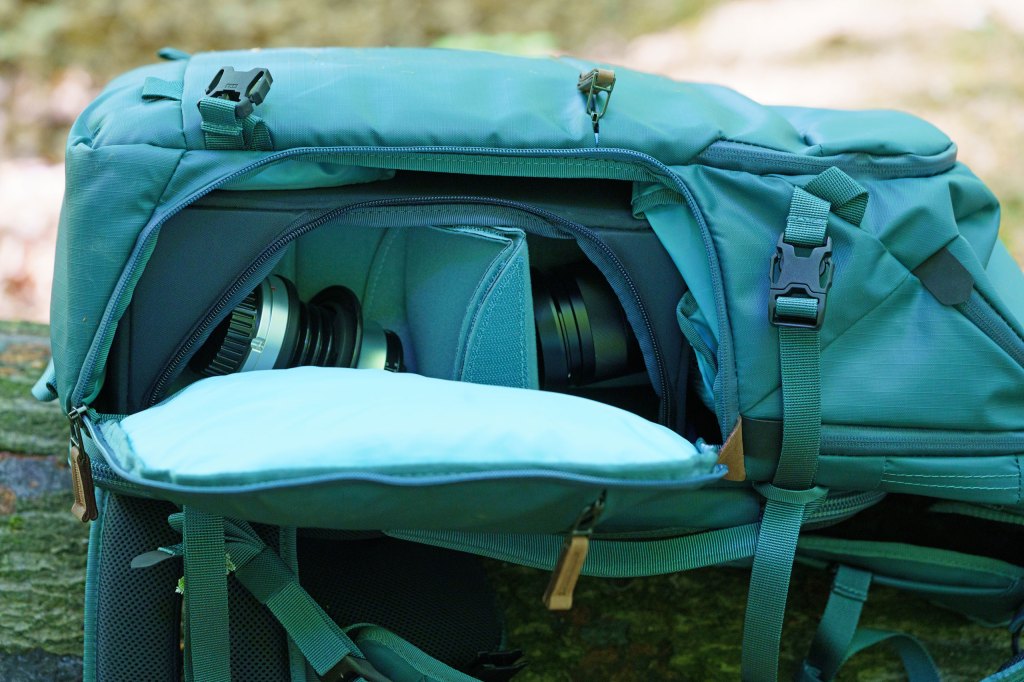 As the main compartment is rear-opening, you have to take the Explore off your back before you can open the large flap to get at all your kit. That's great for security and it means the part of the bag that will be on your back stays clean. However, there's also a side access point, which is handy if you want swap lenses quickly. You just flip the bag around your arm and open the zip without putting the pack down. Helpfully, the flap in the Core Unit can be tucked into the Explore's side pocket flap, so you get quick access to your gear.
Shimoda Camera Core Units
Shimoda makes a range of padded camera inserts, or Core Units, that are suitable for holding different sized cameras and lenses in the main compartment of its backpacks. The Explore v2 30 comes with the Medium Mirrorless v2 Core Unit, which can house a full-frame, single-grip mirrorless camera up to 12cm tall and a few lenses including a 70-200mm f/2.8.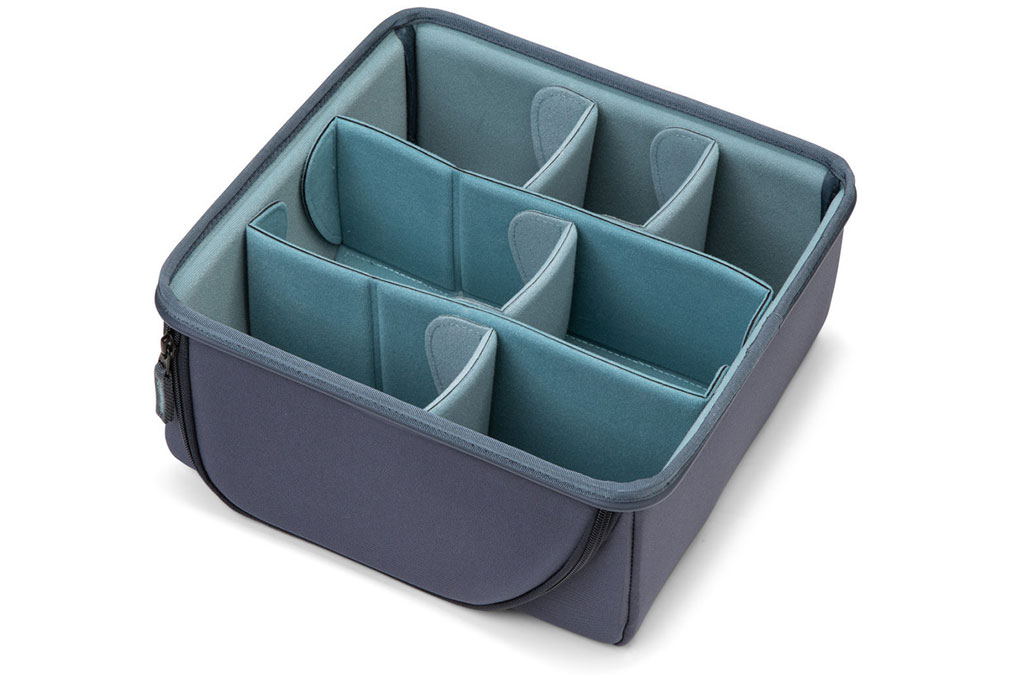 However, it doesn't fill the main section of the backpack and I'd be inclined to invest in the Large version to maximise the camera-carrying capability. Crucially, the Core Unit's thin but rigid walls and dividers give your kit excellent protection without bulk.
Shimoda Women's Series Explore v2 30: Our Verdict
I've carried the Shimoda Women's Series Explore v2 30 stuffed full of kit all day on several occasions and while it can't magically make a heavy burden light, it's very comfortable to carry. The straps aren't set too wide so they stay on my shoulders well and they are curved in the right places.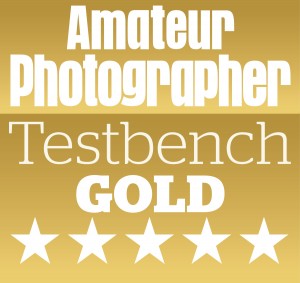 Follow AP on Facebook, Twitter, Instagram, and YouTube.