The latest addition to the Nikon mirrorless range is the Nikon Z8, a smaller alternative to the Nikon Z9, which was launched at the end of 2021, that is being billed by Nikon as the true successor to the D850 DSLR. Both are among the best full-frame mirrorless cameras – but what's different about the new model and is it worth the upgrade? This head-to-head Nikon Z9 vs Z8 spec comparison between the two cameras highlights some key factors to consider.
10 similarities and differences between the Nikon Z9 and the Nikon Z8
Image Sensor and Processor
Nikon Z9: 45.7MP, full-frame stacked CMOS sensor – EXPEED 7 Processor
Nikon Z8: 45.7MP, full-frame stacked CMOS sensor – EXPEED 7 Processor
The Nikon Z8 has the same 45.7MP sensor and EXPEED 7 processor found in the Nikon Z9. Like the Z9, the Z8 does not have a mechanical shutter, and according to Nikon, achieves 'the world's fastest scanning speed' which with the help of the electronic shutter eliminates rolling shutter distortion.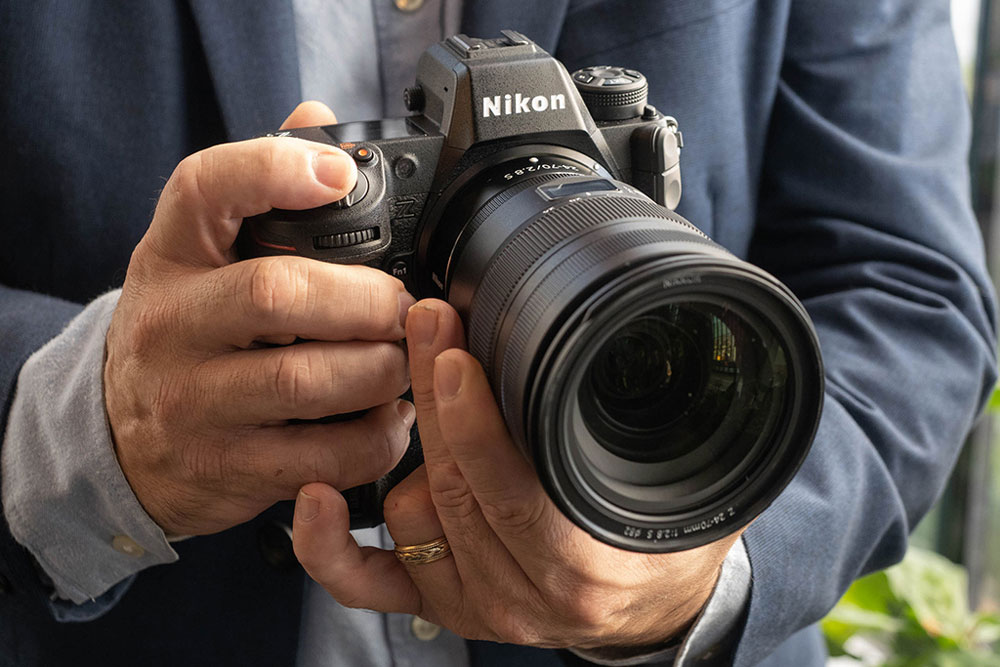 Lens Mount
The availability and variety of lenses is often an important deciding factor when it comes to choosing a camera and both the Nikon Z9 and the Nikon Z8 have a Z-mount system which is compatible with Z-Mount lenses as well as F-Mount Nikkor lenses with a mount adapter.
Memory Card Slots
The Nikon Z9 has dual card slots that accept either CFexpress Type B or XQD cards. These can be used either sequentially or simultaneously in back up mode, or raw files can be recorded to one and JPEGs to the other but the downside is that they are much more expensive than SD cards. While the Nikon Z8 still has two card slots, only one takes CFExpress Type B (or XQD), while the other accepts cheaper UHS-II SD media.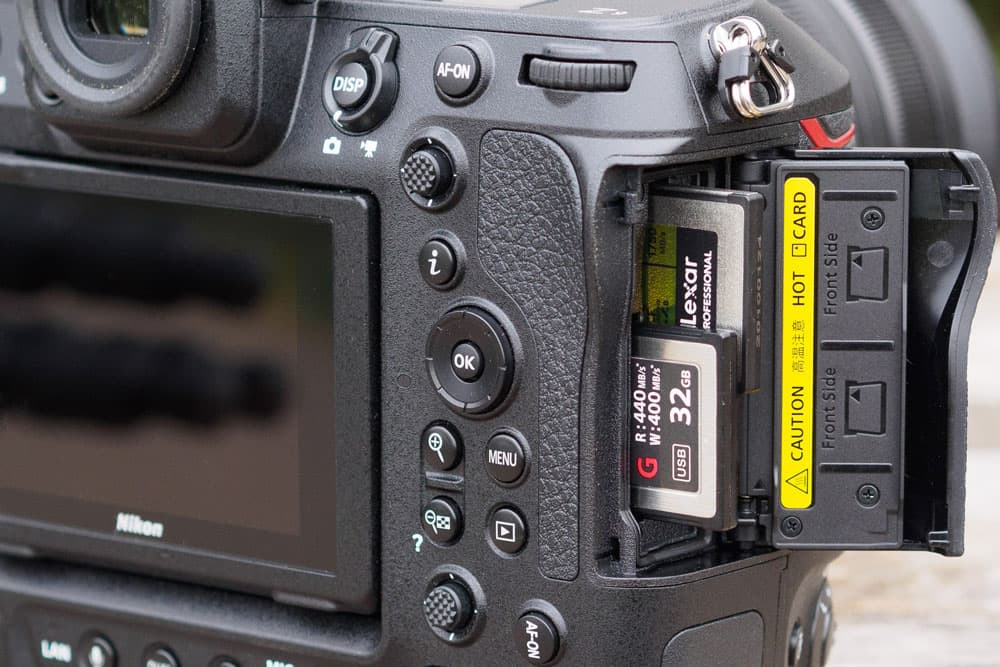 Focus
Nikon Z9: 493 manually selectable AF points, 10 AF-area modes. AF tracking. Human/Animal/Bird/Vehicle/Airplane/Train AF subject detection
Nikon Z8: Eye, Precision detection, AF tracking. Human/Animal/Bird/Vehicle/Airplane/Train subject detection.
Both cameras have intelligent subject-recognition autofocus, meaning you don't have to specify in advance what you're shooting, and 3D tracking. The Nikon Z8 includes deep-learning AF and its subject detection and AF work down to -9 EV for video and stills.
Touchscreen and Viewfinder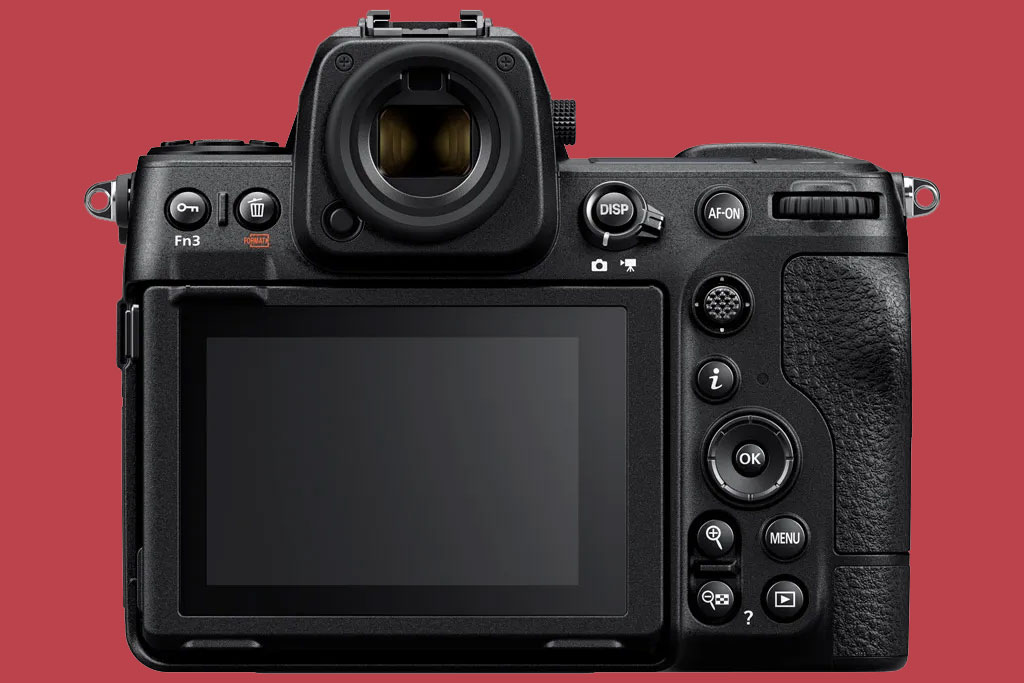 The Nikon Z8 employs the same viewfinder and 3-way tilting screen as the Nikon Z9.
Shutter and shutter speed
Nikon Z9: Up to 1/32,000sec, 20fps in raw (with a buffer of over 1000 frames), full-resolution JPEGs 30fps and 11MP files at 120 fps
Nikon Z8: Up to 1/32,000sec, 20fps in raw (with a buffer of over 1000 frames), full-resolution JPEGs can be recorded at 30fps, and 11MP files at 120fps
Like the Z9, the Nikon Z8 is built without a mechanical shutter. Instead it relies entirely on an ultra-fast, silent electronic shutter that promises minimal subject distortion.
Battery and Body
From the outside, the Nikon Z8 is similar to the Nikon Z9, but does not have a vertical grip and weighs 910g, compared to Nikon Z9's 1340g. The trade-off is that it's powered by the smaller EN-EL15-type battery, instead of the EN-EL18d Li-ion-type battery the Nikon Z9 is powered by. An optional MB-N12 battery grip is available for the Nikon Z8, which gives it 1.8x more battery life.
Video
Nikon Z9: 8K video at 30 fps, Full-frame 4K at up to 120fps 
Nikon Z8: 8K video at 30fps, 4K 60p
Both cameras have a lot of choice when it comes to video. The Nikon Z9 has a choice of 8-bit or 10-bit color, with efficient H.265 compression to keep file sizes down.
The Nikon Z8 is capable of recording in 10-bit colour using either the H.265 or Apple ProRes 422 HQ codecs, with both Hybrid Log Gamma and N-Log on hand for colour grading in post-production. For even higher quality, it supports ProRes RAW and N-RAW, both with 12-bit colour. Stereo audio is recorded in 24-bit depth at 48kHz. For HDR content creators who shoots both stills and video, the camera can record 10-bit HEIF stills and 10-bit HLG video.
Controls and connectivity
In terms of control layout, the Nikon Z8 looks near identical to the Nikon Z9, but without the extra buttons on the vertical grip. In a first for Nikon, there are dual USB-C sockets (on the Z8), one for charging the camera or powering the camera, and the other for connectivity, either to a computer or the ethernet by USB-LAN.
Price
Nikon Z9: $5,500 / £5,299 body-only
Nikon Z8: $3,999 / £3,999 body-only
While the Nikon Z8 has many of the same features of the Nikon Z9, it also comes at a much lower price point, around $2,000 / £2,000 less.
Nikon Z8 vs Nikon Z9: Ultimate Showdown!
Now that you know the main distinctions between the two models, you may want to read our in-depth reviews of the cameras before you settle on which one is best for you.
Related content:
Follow AP on Facebook, Twitter, Instagram, and YouTube.