Polaroid has announced a new high-end instant camera, the Polaroid I-2. While it retains the iconic design of the firm's other recent models that's reminiscent of classic Polaroid cameras of the 1980s, the I-2 is a major step up in ambition, with a higher-quality lens, autofocus, and full manual control. Its name is a nod to the Impossible I-1 – the first camera the company produced back in 2016, when it was known as The Impossible Project.
The firm claims that the three-element 98mm f/8 lens is the sharpest it's ever made, having been designed in collaboration with Japanese optical engineers. Constructed from "optical grade polycarbonate and acrylic with anti-reflective coating", it provides an angle of view roughly equivalent to 38mm in 35mm terms, with f/2.8-equivalent depth of field. Infrared LiDAR autofocus covers a range 0.4m to infinity, measuring a single point in the middle of the frame, and there's even a 49mm filter thread.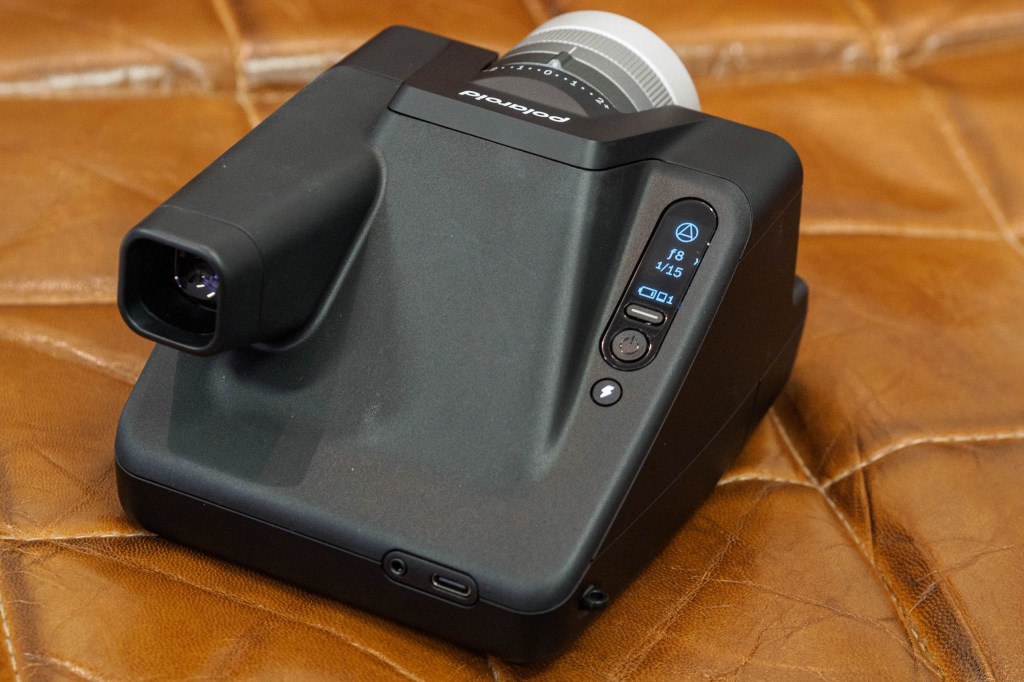 A full range of shooting modes is available, including auto, aperture priority, shutter priority, manual, self-timer, and multi-exposure. There's a large dial around the lens for changing settings, with another for exposure compensation across +/-2 EV range. A tripod socket is built in for shooting with long shutter speeds.
Key settings are shown both in the large optical viewfinder and on a top-plate status display, including shutter speed, aperture, focus distance, frames remaining, and battery status. There's a built-in flash with a 2.5m range, plus a 2.5mm flash sync socket for studio strobes.
Available settings are as follows:
Shutter speed: 1/250 – 30 seconds + Bulb
Aperture: f/8 – f/64 in whole stops
Self-timer: 3, 6, 9, 12 seconds
Multi-exposure: 2-4 shots
Measuring 149.9 x 119.3 x 91.2 mm and 563 grams, the camera is compatible with i-Type, 600 and SX-70 film, giving an 8cm square image size. It employs a built-in Li-ion battery that can be recharged via a USB-C port, with a 15-pack battery life. Bluetooth connectivity enables full remote control and firmware updates from your smartphone via the Polaroid App for iOS and Android.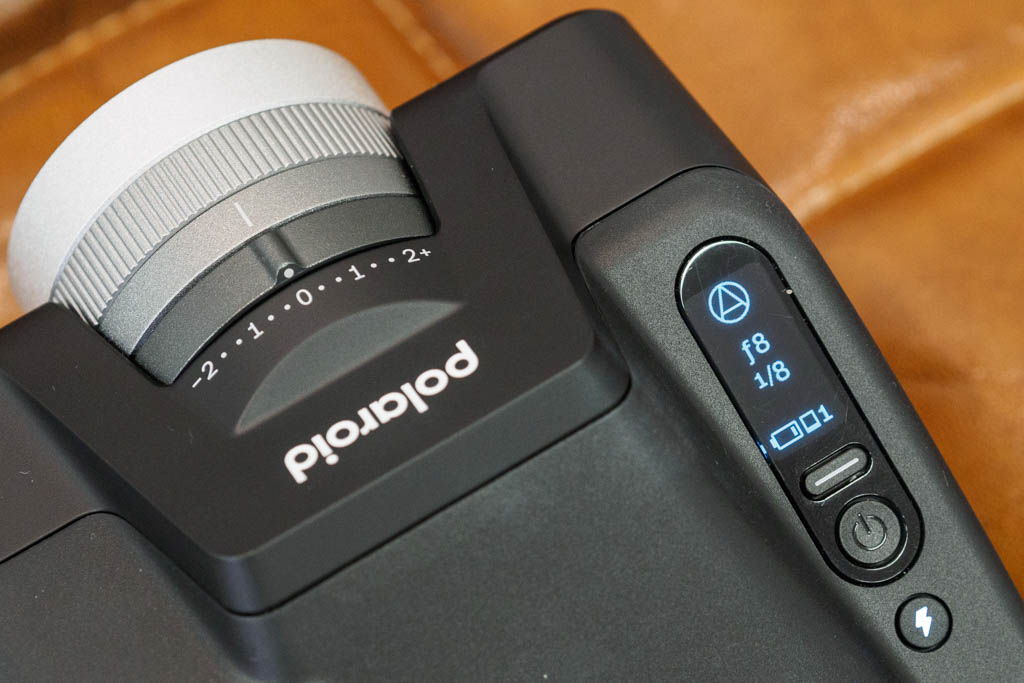 The Polaroid I-2 is available now for £599.99. A range of matching accessories is also available, including a premium vegan leather shoulder strap (£29.99) and a shoulder holster (£64.99)
Editor's note: We got a sneak peak at the Polaroid I-2 before its launch, and while it's very pricey for an instant camera, it's fair to say that no other instant camera on the market is quite like this. That large lens allows a decent degree of subject separation and background blur, and delivers very respectable sharpness without losing the lo-fi aesthetic that gives Polaroid photography its charm. It's straightforward to use, and the 8cm-square prints are larger in area than those from Fujifilm Instax cameras. We're hoping to get out hands on the camera for a full review in due course.
Follow AP on Facebook, Twitter, Instagram, and YouTube.
Press release:
Polaroid I-2 – the high-end camera for instant photography mastery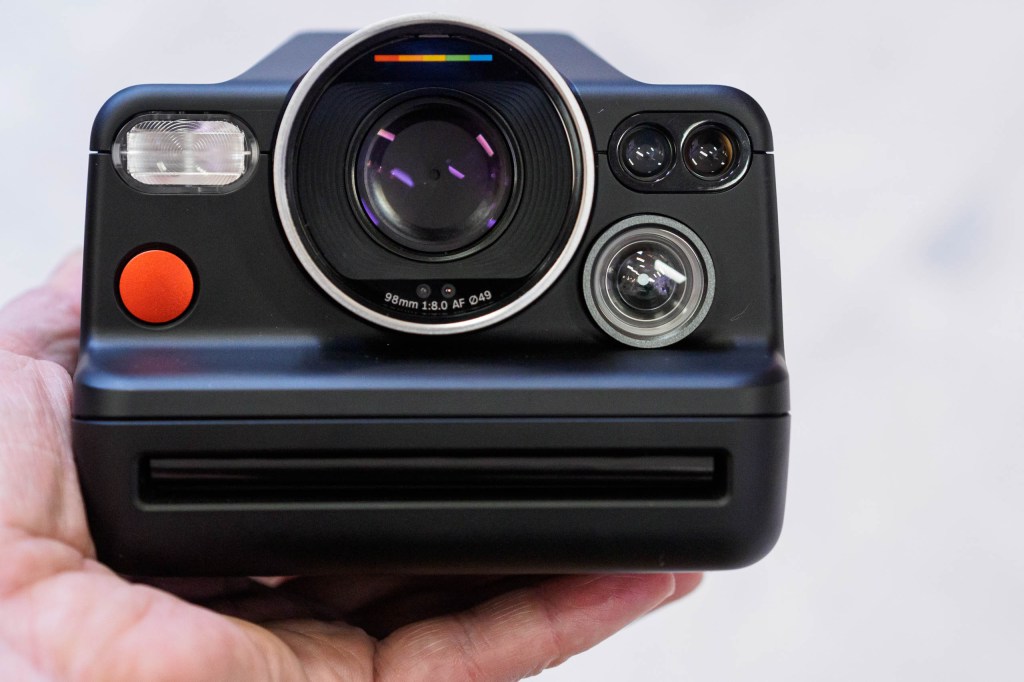 The new Polaroid I-2 combines traditional analog experience with modern camera technology to establish a new benchmark in instant photography.
Armed with the sharpest ever Polaroid lens and built-in manual controls, the I-2 produces exceptional image quality and empowers photographers with the tools to master their craft.
"For a long time, it was our dream to make a high-end Polaroid camera and give people more choice in the world of analog photography – a choice that many passionate photographers told us they were craving," said Polaroid Chairman Oskar Smolokowski. " To develop the I-2, we expanded our engineering team and spent more than four years designing and finessing every element. It is the most capable camera we've ever made and a true milestone in our journey."
At the heart of the I-2 is a continuous autofocus three-lens system capable of making the sharpest shots of any Polaroid instant camera for integral film, while a wide aperture delivers a gorgeous depth of field. The lens has been designed in partnership with Japanese optical engineers with decades of experience developing marquee analog products.
The autofocus takes full advantage of the lens with a LiDAR (light detection and ranging) sensor, which precisely detects the distance to the subject and auto-adjusts the lens, ensuring accurate focus. LiDAR enables longer focusing distance and is reliable even in difficult scenes with high or low light conditions.
The I-2 is the first Polaroid camera for integral film with built-in manual controls allowing more creative freedom. A large, bright viewfinder offers a traditional optical experience and communicates camera settings via an integrated display. Shutter speed, aperture size and six different shooting modes are directly selectable on the camera.
Further extending creative choices for photographers, the Polaroid I-2 is the first instant camera compatible with i-Type, 600 and SX-70 film and has a built-in lens thread mount compatible with 49mm filters.
The design of the I-2 is a celebration of its functionality. The exterior is built around the lens and the camera's manual controls. It is made with high-quality materials and has a modern look while remaining uniquely and unmistakably Polaroid.
Made for the digital age, Polaroid I-2 features Bluetooth connectivity, and the accompanying app allows firmware upgrades over the air as well as complete remote control of the camera.
Coco Capitán, Kotori Kawashima and Max Siedentopf became the first artists to try the new I-2 camera. Polaroid commissioned their work for the "Imperfectionists" campaign designed to mark the launch and celebrate instant photography as a creative medium that is beautifully unpredictable and imperfect.
"I am not interested in perfection. Chaos. Spontaneity. Randomness. That's where reality exists," remarks Coco Capitán, the celebrated Spanish artist. "Working with the I-2 and the Polaroid film is remarkable. As a creative tool, it has a lot of capabilities, while you cannot always predict what the photo will look like. Every shot is unique, and the process is as meaningful as the result."
Polaroid I-2– key features
Lens: 3-element lens with continuous autofocus system. Capable of ƒ/8 aperture across 0.4m (1.3′) ~ ∞ range controlled via a stepper motor. Material: optical grade polycarbonate and acrylic with anti-reflective coating.
LiDAR: high accuracy ranging system
Built-in manual controls: camera mode, flash mode, distance to the object, shutter speed, aperture, and light meter indicator value are selectable on the camera and communicated through an integrated viewfinder display and external OLED display.
Camera modes: auto, aperture priority, shutter priority, manual, self-timer, multi-exposure.
Flash: vacuum discharge tube strobe, 2.5m (8′) range. Accurate, human-friendly flash system.
Design: Modern design that echoes past iconic Polaroid machines. The technical requirements and the lens dictate the camera's shape. The exterior is made of high-quality ABS and PMMA plastic that is more impact-resistant and finished with a special coating giving it a premium look and feel.
UX design: working with I-2 is engaging, I-2 technical performance is 'on the surface – complexity is highly accessible.
Premium materials: ABS, PC, PMMA, Aluminum Alloy
Internal rechargeable lithium-ion battery, rechargeable via USB-C – 15-pack battery life
Compatible with Polaroid i-Type, 600, and SX-70 film.
App-enabled: download iOS or Android Polaroid App to enable full remote control and firmware updates via OTA Bluetooth
Tripod mount: standard 1/4-20 UNC thread
Built-in lens filter thread mount. Compatible with 49mm filters.
2.5mm audio mono jack flash sync interface. Compatible with external flashes.
The Polaroid I-2 instant camera is available for purchase on polaroid.com and through select retailers worldwide from September 7.