Benro has announced a new lightweight, travel-friendly tripod, called the Benro Cyanbird. Where the firm's other travel models use reverse-folding legs for a compact folded length, the Cyanbird adopts the currently fashionable approach of using flattened leg sections and a trigonal centre column, which allows it to pack tightly to a cylinder just 6cm in diameter, with a 46cm length. Its five-section legs employ clip locks and hybrid construction, with a carbon fibre top section and aluminium elsewhere.
Canon EOS 5D Mark IV · f/4 · 1/800s · 100mm · ISO400
Benro Cyanbird key specifications:
£235 (kit with compact ball head and case)
155cm maximum height
17cm minimum height
46cm folded length
1.05kg weight
4kg rated load
The legs can be set independently to three different angles, including almost flat, while the centre column can be split for low-angle shooting. A compact ball head is supplied in the kit, with an independently panning camera platform that uses an Arca Swiss type clamp. An array of 1/4in thread sockets allows additional accessories to be mounted. The tripod also comes with an unusual and clever roll-up case for transport.
Benro has also placed more than half an eye on style, with smart blue anodised castings complemented by satin silver leg locks. The Benro Cyanbird tripod kit is due on sale from 1st September for £235.
Follow AP on Facebook, Twitter, Instagram, and YouTube.
From Benro:
Welcome to Benro's newest and most visually stunning compact tripod!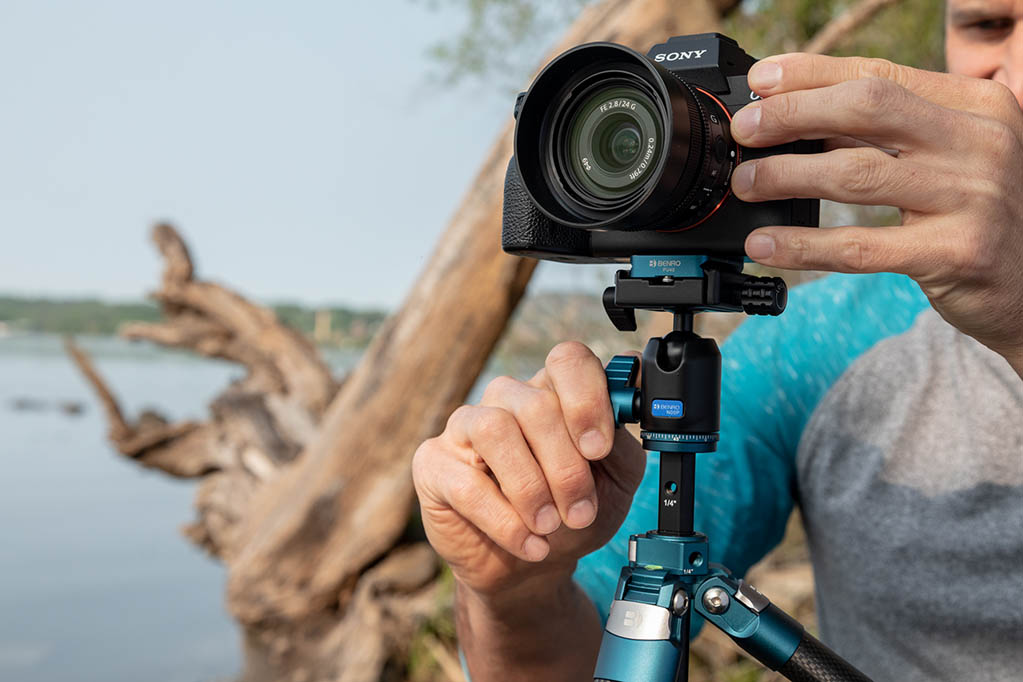 Canon EOS 5D Mark IV · f/8 · 1/500s · 58mm · ISO400
Easy on the eye, easy to carry, engineered to deliver a robust performance.
Wolverhampton 1st August – Benro announces the arrival of the Cyanbird Tripod. Legend has it that a Cyan Bird was strong and dexterous whilst transforming into a stunning auspicious creature – need we say more about this latest tripod design!
Compact, lightweight, sturdy and striking – the Benro Cyanbird is a travel-friendly tripod kit that will be the perfect companion for your photographic adventures and content creation.
The Cyanbird boasts ocean blue anodised castings with satin aluminium lever leg locks, while arch-profile shaped legs wrap around the centre column giving the Cyanbird a folded diameter of just 6cm. The legs are made up of carbon top tubes and aluminium lower leg sections – carbon fibre for the top section because it saves weight and, well, it looks amazing!
There is a weight hook at the bottom of the centre column, while the upper section of the centre column contains three ¼" accessory mounts. The centre column can also be split so that the tripod can be used at a minimum height of just 17cm.
The kit includes the Arca-compatible N00P ball head with a single-action lock knob for fast and easy operation, while the quick-release platform can be panned independently of the main ball lock for precise camera positioning.
Don't be fooled by the Cyanbird's looks, it's a serious tripod that weighs just 1.05kg, will support up to 4kg, and can reach 155cm high while being able to fold down to just 46cm, making it easy to store in your backpack or camera bag. Perfect for the photographer that travels or the traveller who photographs!
The Cyanbird includes a 'roll-up' padded carry case, providing easy access to your tripod and any other gear you store inside.
Don't settle for less than the best. Upgrade to the beautiful Benro Cyanbird Tripod TCBH15N00P tripod kit today!
Key Features:
Compact and easy to carry – weighs just 1.05kg and folds down to just 46cm
Maximum operating height 155cm, minimum height 17cm
Narrow profile when folded – just 6cm diameter
Aluminium flip-leg locks are quick to use and strong.
Two section splittable centre column
Hybrid carbon fibre & aluminium leg construction able to support up to 4kg
Single action, Arca-compatible ball head with panning quick-release platform.
New ocean blue finish
Stock will be available in UK and Ireland photographic retailers from 1st September 2023.
Please visit https://uk.benroeu.com/ for stockist information and details of the full Benro support range.