The smartphone market is a crowded field these days. But when choosing the best smartphone for videography, it is important to look for a device that boasts a high-resolution camera, advanced lens options and good audio recording capabilities.
However, as smartphone tech has improved, many phones also now come with optical or digital image stabilisation, which can help reduce the effects of camera shake. Additionally, some of the best phones for video now offer slow-motion or time-lapse recording capabilities, either via dedicated modes or high frame rate options within the menu settings. It's also important to choose a phone that offers you manual controls to adjust exposure settings such as aperture, shutter speed, and ISO.
What smartphone brand is best for video?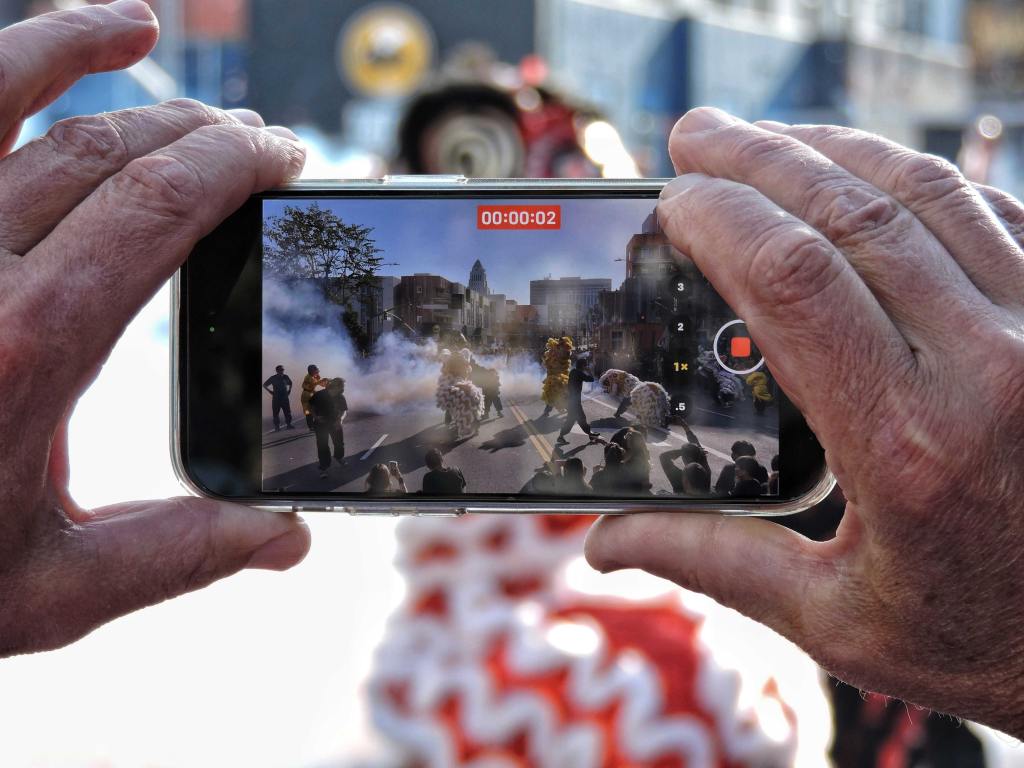 While just about every phone these days will record video (apart from Nokia's throwback '90s models) the best smartphones for video will primarily be the flagship models from big brands such as Apple, Sony, Samsung, Google, Huawei and a handful of others.
In addition to these brands' flagship models, their mid-range models also typically boast excellent videography capabilities because a manufacturer's signature technology tends to trickle down the range over time.
What's more, for the truly budget conscious, some brands like OnePlus and Motorola have launched low-end models that offer no frills in some areas (eg screen size or resolution) but include quality cameras and video capabilities. The OnePlus Nord and Motorola G series are prime examples.
How much does the best smartphone for video cost?
Prices vary by brand, of course (we're looking at you, Apple) and by country. But the average price of a high-end smartphone with solid video capabilities is around $600-1000 / £600-1000, depending on the model and features. Obviously, for flagship models, you will pay out at the upper end of that range. But you can still find good-quality smartphones for videography at the lower end.
The best smartphones for videography in 2023
The best smartphones for video are always changing, but as we enter 2023 the models listed below are the most capable and versatile options you can buy.
Google Pixel 7 Pro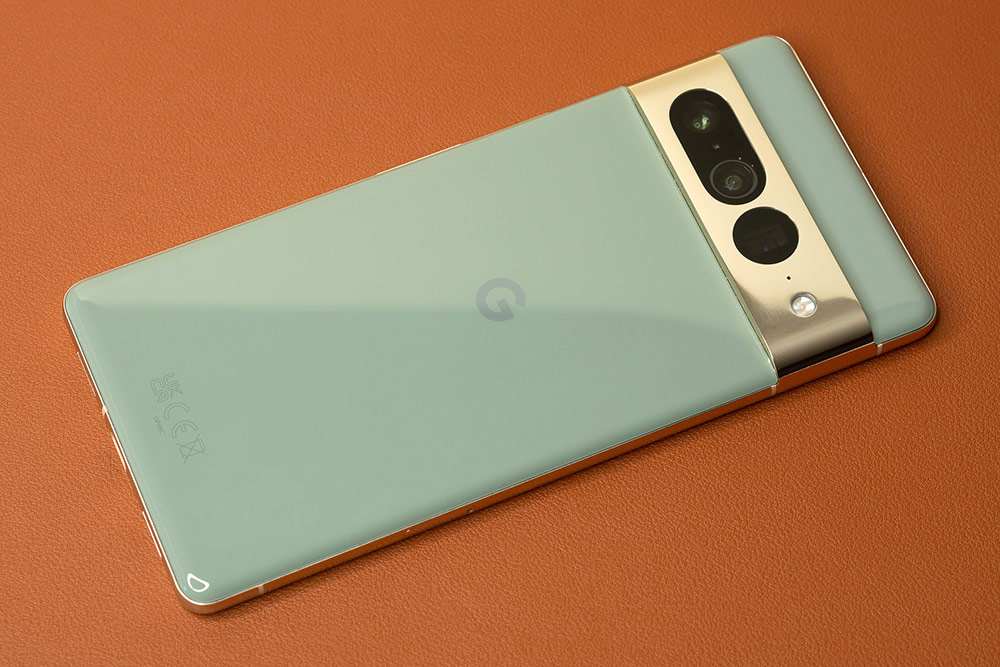 Video Specs:
4K at up to 60fps
1080p at up to 240fps
gyro-EIS, OIS
10-bit HDR
Camera Specs:
50 MP, f/1.9, 25mm (wide), 1/1.31″, multi-directional PDAF, Laser AF, OIS
48 MP, f/3.5, 120mm (telephoto), 1/2.55″, multi-directional PDAF, OIS, 5x optical zoom
12 MP, f/2.2, 126˚ (ultrawide), 1/2.9″, AF
Price: £849 / $879
The Google Pixel 7 Pro is a great choice for videographers due to its impressive triple-camera array. On the back are a 50MP wide-angle (main) camera with a 1/1.31-inch sensor, a 48MP 1/2.55-inch sensor with a telephoto lens and a 12MP ultra-wide lens with a 1/2.9-inch sensor. The Pixel 7 Pro's larger sensors allow it to capture more light and create stunningly detailed footage. Its 48MP telephoto lens also provides up to 5x optical zoom. All of its cameras can record 4K at 60fps, including the front selfie camera.
The Pixel 7 Pro also offers a Night Sight mode, which can produce incredible low-light footage with minimal noise. Additionally, it has enhanced video stabilisation, which means you can film on the go and even zoom into a scene without fear of camera shake. A Speech Enhancement mode isolates the voice of a person speaking while reducing background noise. And new to the Pixel 7 series is Google Cinematic Blur mode, which is effectively Portrait Mode in video that blurs your background while isolating your subject.
With its wide variety of lenses, powerful video stabilization and new cinematic features, the Google Pixel 7 Pro is an ideal choice for capturing stunning videos.
Read our Google Pixel 7 Pro review.
Apple iPhone 14 Pro Max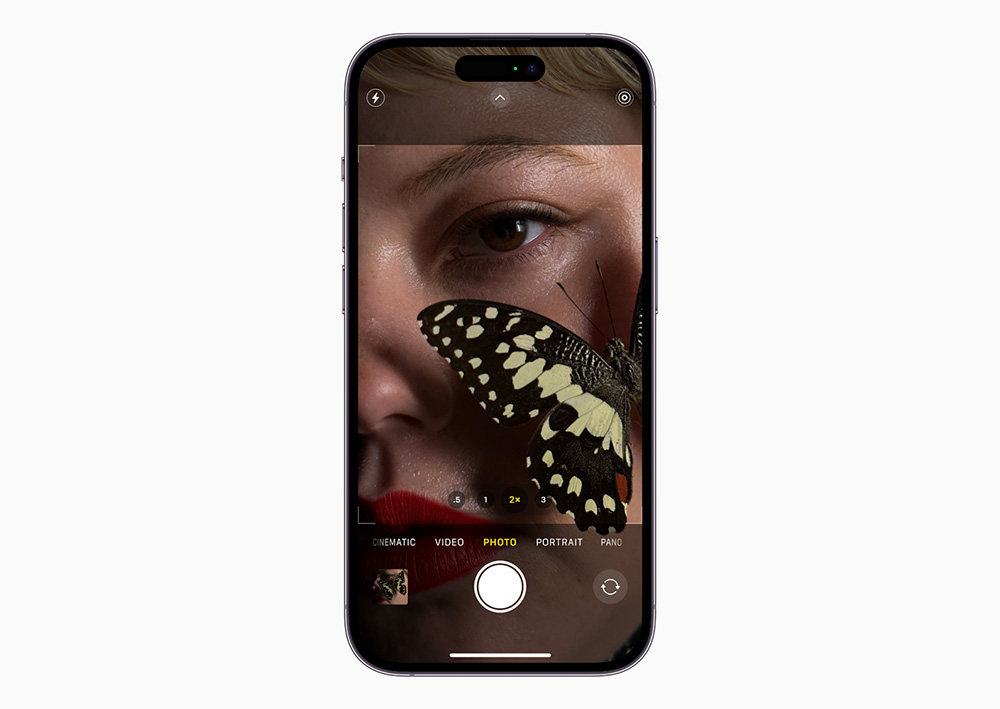 Video Specs:
4K video recording at up to 60fps
1080p video recording at up to 120fps
Dolby Vision HDR (up to 60fps)
Cinematic mode (4K@24/30fps)
ProRes
Camera Specs:
48 MP, f/1.8, 24mm (wide), 1/1.28″, 1.22µm, dual pixel PDAF, sensor-shift OIS
12 MP, f/2.8, 77mm (telephoto), 1/3.5″, PDAF, OIS, 3x optical zoom
12 MP, f/2.2, 13mm, 120˚ (ultrawide), 1/2.55″, 1.4µm, dual pixel PDAF
Price: £1,099 / $999
The Apple iPhone 14 Pro Max is an excellent smartphone for videography due to its robust set of features. It has a 6.7-inch Super Retina XDR OLED display with HDR10, which offers vibrancy and accuracy in colour reproduction. Additionally, the Pro Max has a triple camera setup, which includes ultrawide, wide, and telephoto lenses, making it great for capturing multiple perspectives. On top of that, the Pro Max boasts Apple's powerful A16 Bionic chipset and 6GB of RAM, making it capable of handling complex tasks.
For videography, the Pro Max also features Apple's ProRes format, which gives users more control over their videos, as well as improved stabilisation for smoother recordings. Apple's Cinematic mode has been enhanced with 4K capability at 24fps. The device also provides an impressive battery life while filming, thanks to its 4323 mAh battery.
The Pro Max is also compatible with Apple's Creative Suite, allowing videographers to edit their videos on the go. Pound for pound, the Apple iPhone 14 Pro Max is perhaps the best smartphone for video, offering a wide range of professional features, but it does come with the biggest price tag of any device on this list.
OnePlus 11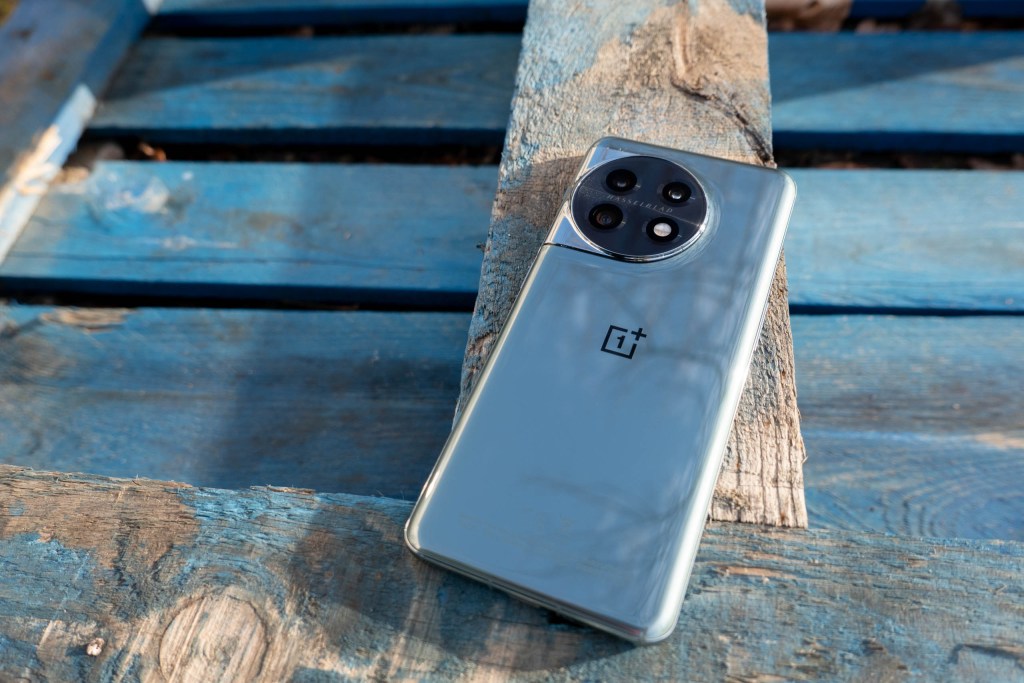 Video Specs:
8K at 24fps
4K at up to 60fps
1080p video at 30/60 fps
720p video at 30/60 fps
Super Slow Motion: 1080p video at 240 fps, 720p video at 240/480 fps
Time-Lapse: 4K/1080p at 30 fps
Camera Specs:
50MP IMX890 wide camera, 1/1.56" sensor, f/1.8 aperture, 24mm equivalent, OIS
48MP IMX581 ultra-wide camera, 1/2" sensor, f/2.2 aperture, 115 degree field of view
32MP IMX709 "portrait" camera, 1/2.74" sensor, f/2.0 aperture, 48mm equivalent
16MP fixed-focus IMX471 selfie-camera, f/2.45 aperture
Macro capability
Price as reviewed: £729 / £799 (sim free)
If you crave extra resolution, the OnePlus 11 is one of the few smartphones on this list that is capable of 8K video recording. Now, you might think you don't need 8K resolution – and 8K video will eat your memory cards and hard drives – but many videographers like to shoot in 8K to create higher quality down sampled 4K footage. This can be a real advantage.
The ONePlus 11 is equipped with a 50MP main camera, a 48MP ultrawide camera, and a 32MP "portrait" camera, giving you a wide range of options to achieve your desired image quality and composition. It also comes with a 16-megapixel fixed focus front-facing selfie camera for those looking to take more professional-grade self-portraits or videos.
The OnePlus 11 also offers a range of other features that make it a great choice for videographers. Both its 50-megapixel wide (main) and 32-megapixel short telephoto cameras feature impressive OIS (Optical Image Stabilization) feature that help to reduce camera shake and create smoother, more professional-looking footage. There are also a number of different video modes, such as Video Nightscape, Video HDR, Video Portrait, Timelapse and Dual-View video that make filming different subjects and scenes easier.
Along with the iPhone 14 Pro Max, OnePlus' latest is one of the most versatile smartphones for videography.
Read our OnePlus 11 review.
Samsung Galaxy S22 Ultra 5G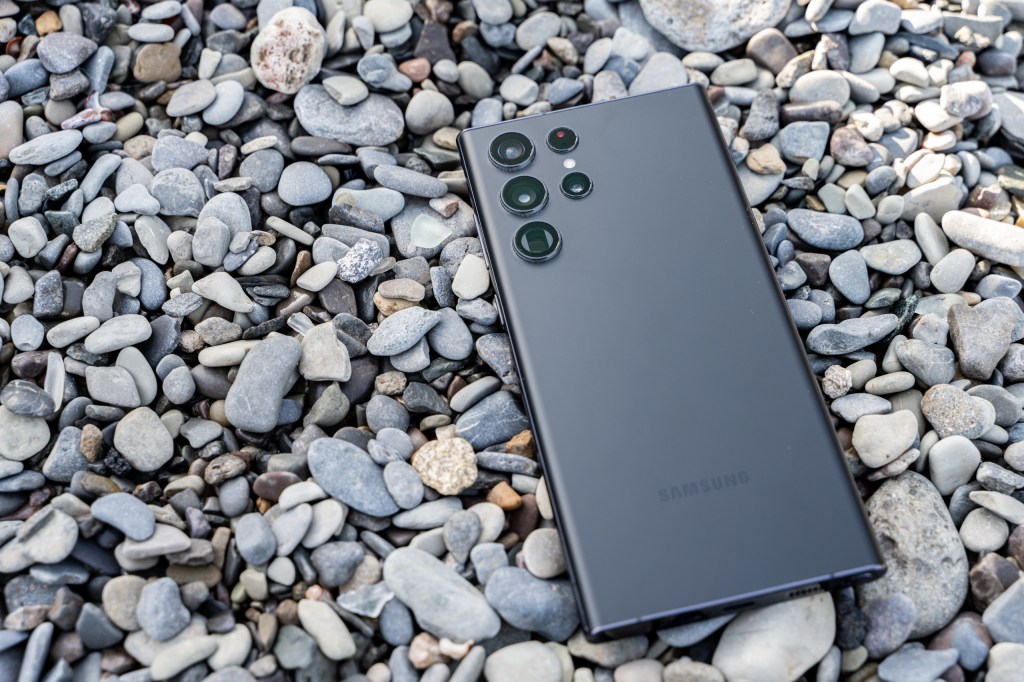 Video Specs:
8K at 24fps
4K at up to 60fps
1080p at up to 240fps
720p at up to 960fps
Camera Specs:
108 MP, f/1.8, 23mm (wide), 1/1.33″, 0.8µm, PDAF, Laser AF, OIS
10 MP, f/4.9, 230mm (periscope telephoto), 1/3.52″, 1.12µm, dual pixel PDAF, OIS, 10x optical zoom
10 MP, f/2.4, 70mm (telephoto), 1/3.52″, 1.12µm, dual pixel PDAF, OIS, 3x optical zoom
12 MP, f/2.2, 13mm, 120˚ (ultrawide), 1/2.55″, 1.4µm, dual pixel PDAF, Super Steady video
Price: £805 / $994
Like the OnePlus 10 Pro, the Samsung Galaxy S22 Ultra is the other smartphone on this list that can record 8K video. Along with that you have the versatile 4K at 60fps options, and two choices for slow motion video in 1080p at 240fps and 720p at 960fps.
At the heart of the Samsung Galaxy S22 Ultra is a whopping 108MP primary camera, 12MP ultra-wide-angle lens, and a 10x hybrid optical zoom lens. This combination allows for high-resolution photos and videos with a range of angles for capturing every moment.
The S22 Ultra also has a range of intelligent features such as Single Take, which allows users to take multiple photos and videos at once with just one action. Its Night Mode feature allows for detailed and bright shots even in low light. The S22 Ultra's powerful 4nm Qualcomm SM8450 Snapdragon 8 Gen 1 chipset ensures that your videos are recorded and edited quickly and smoothly.
In addition, the S22 Ultra is equipped with a 6.8-inch Dynamic AMOLED 2X HDR10+ display, which provides an ultra-wide viewing experience with vivid and dynamic visuals. The display also supports a high refresh rate of 120Hz, which makes scrolling and swiping your footage or menu options smooth and effortless. The Samsung Galaxy S22 Ultra is the perfect device for anyone who wants to record and edit videos at the highest quality.
Read our Samsung Galaxy S22 Ultra review.
Sony Xperia 1 V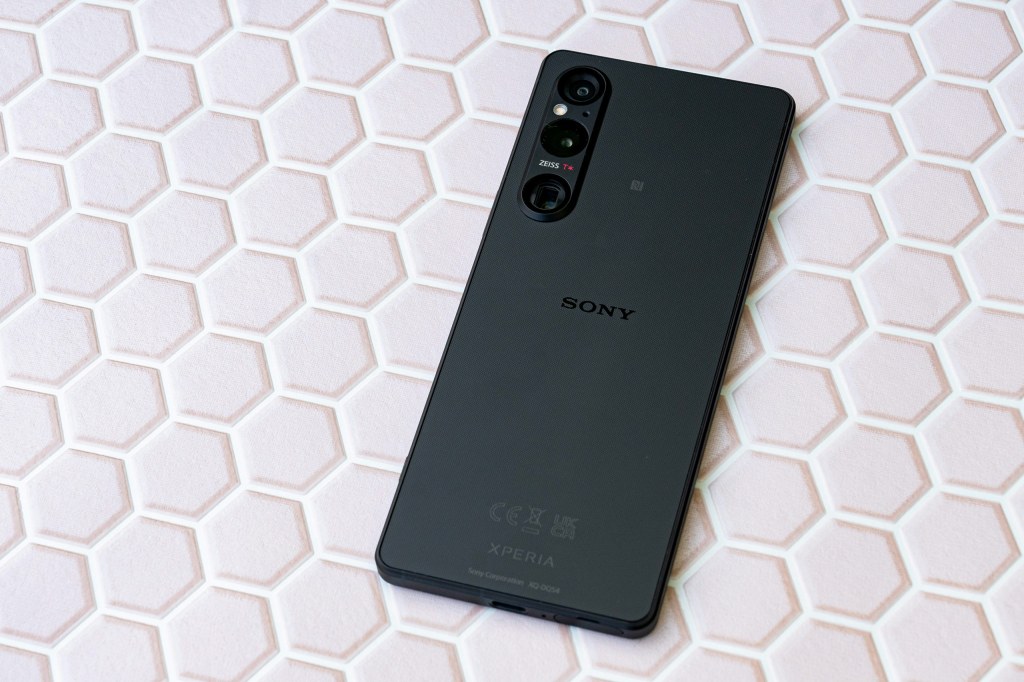 NIKON Z 6_2 · f/8 · 1/160s · 56mm · ISO320
Video Specs:
4K HDR at up to 120fps
1080p at up to 120fps
5-axis gyro-EIS, OIS
Camera Specs:
52MP (48MP effective) wide camera, f/1.9 aperture, 24mm equivalent, PDAF, OIS
12MP ultra-wide camera, f/2.2 aperture, 16mm equivalent, PDAF
12MP optical zoom telephoto camera, f/2.3-f/2.8 aperture, 85-125mm equivalent, PDAF, OIS
12MP f/2.0 selfie camera, 24mm equivalent, fixed focus
Price: $1,398 / £1,299
optical steady shot with flawless eye, object tracking, eye af, s cinetone for mobile product showcase setting, video pro live streaming
The Sony Xperia 1 V is one of the best smartphones for video you can buy today and comes with some truly impressive features. Firstly, it has a 6.5-inch, 4K HDR OLED display with 10-bit colour in a 21:9 aspect ratio, which is great for viewing videos in cinematic widescreen. Videos look incredibly vibrant and clear.
Secondly, this smartphone has three rear cameras, including a 52MP main lens, a 12MP telephoto lens, and a 12MP ultra-wide lens. These pixel counts might seem low on the surface, but the sensors perform very well in low light, producing noise-free images with a wonderful range of tones. What's more, the choice of three lenses includes 16mm, 24mm, and the telephoto option provides a true optical zoom of 85-125mm. This allows for versatile shooting options and the ability to capture wider scenes.
All three cameras offer 4K HDR 120fps video recording, Eye AF and Object tracking, which makes focusing a breeze. The Xperia 1 V is also capable of live-streaming video direct to video streaming services from your phone using Sony's Videography Pro app.
Thirdly, the Xperia 1 V also comes with features such as SteadyShot stabilization and an AI-assisted autofocus system, both of which will help videographers get the best out of their footage. Finally, it is powered by the Qualcomm Snapdragon 8 Gen 2 processor, which provides smooth performance when editing and viewing footage.
Read our Sony Xperia 1 V review.
Best budget smartphones for video
iPhone SE
Video Specs:
4K at up to 60fps
1080p at up to 240fps
HDR
OIS
Stereo sound recording
Camera Specs
12MP, f/1.8 (wide), PDAF, OIS
Price: £449/ $150
With a sub-£500 price tag, the iPhone SE is a great budget option for videography. Not to mention its powerful A15 Bionic Chip, high-quality camera and excellent battery life. The Apple-developed A15 Bionic Chip provides a powerful processor that allows for smooth streaming and editing of videos without experiencing lag or stuttering.
Meanwhile, the SE's lone 12-megapixel camera may look pedestrian in comparison to Huawei's quad-camera arrays or the 108MP offerings from the likes of Samsung. All of this this aside however, its 4K footage is crisp, noise-free and full of rich colours.
What's more, the device has excellent battery life. It can last for up to 15 hours of video playback on a single charge. This makes it perfect for long shoots and editing sessions. If you're looking for a powerful, user-friendly device that can handle your everyday video needs, without breaking the bank, the iPhone SE is a solid option.
Google Pixel 6 Pro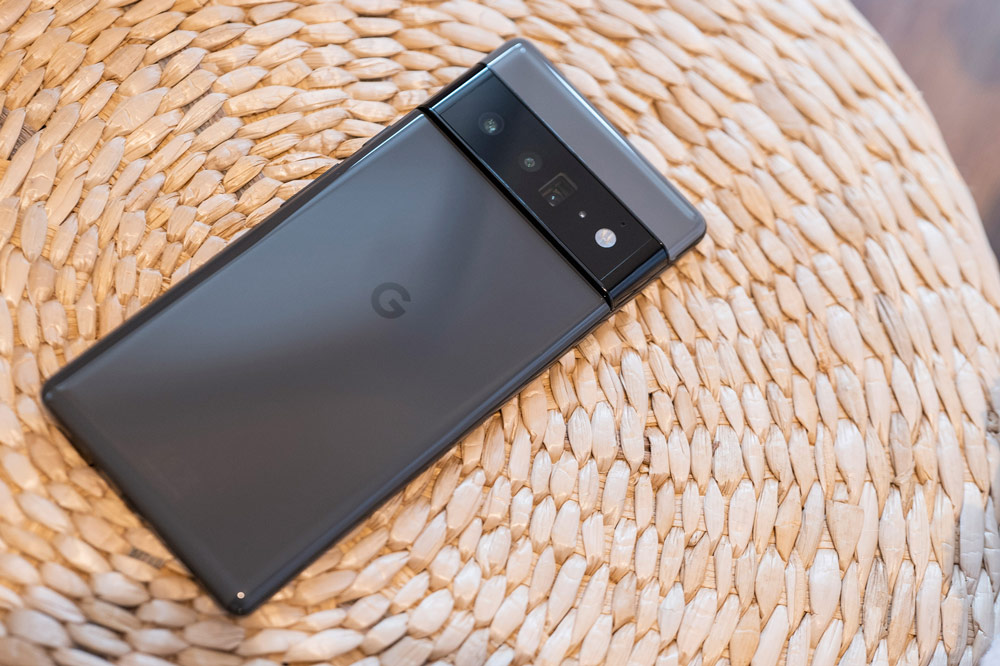 Video Specs:
4K at up to 60fps
1080p at up to 240fps
gyro-EIS, OIS
Camera Specs:
50 MP, f/1.9, 25mm (wide), 1/1.31″, Dual Pixel PDAF, Laser AF, OIS
48 MP, f/3.5, 104mm (telephoto), 1/2″, PDAF, OIS, 4x optical zoom
12 MP, f/2.2, 17mm, 114˚ (ultrawide)
Price: Refurbs available for around £300; new at around £450-500/ $599
The Google Pixel 6 Pro is expected to be one of the leading smartphones for video recording in 2023. The Pixel 6 Pro will feature feature a 6.67" OLED display, with a resolution of up to 3220 x 2800 pixels. It is expected to be capable of recording 4K video at up to 60 FPS and will include advanced OIS and EIS stabilization.
With the Pixel 7 series now released, the Google Pixel 6 Pro begins its fade to the background. However, the device is little more than a year old and offers some superb options for video at a now-reduced price.
The Pixel 6 Pro remains a great smartphone for videography because it offers that all-important 4K at 60fps recording option and comes with some features that are essential for capturing great videos. For instance, it has four stabilisation modes for video – Standard, Locked, Active and Cinematic Pan. It also offers a Dual Exposure Control. This enables you to adjust the highlights and shadows in your videos to get a better exposure.
When filming in low light, the Pixel 6 Pro has a Night Sight feature. It allows you to capture a wider dynamic range with amazing low-light footage. Combined with Google's powerful Tensor chipset, 12GB of RAM and long battery life from its 5,003 mAh battery, the Pixel 6 Pro doesn't look so long in the tooth at all.
Read our Google Pixel 6 Pro review.
Looking for more info on how to start shooting video? 
Smartphones have established themselves as the ultimate carry-around camera and there are currently a lot of good camera phones out there – even budget options! Amateur Photographer has covered it numerous times, so you'll find lots of video articles on this website, but here are some of our top ones that we think you should have a look at. Simply click the titles below.
How to make a great video recording with your camera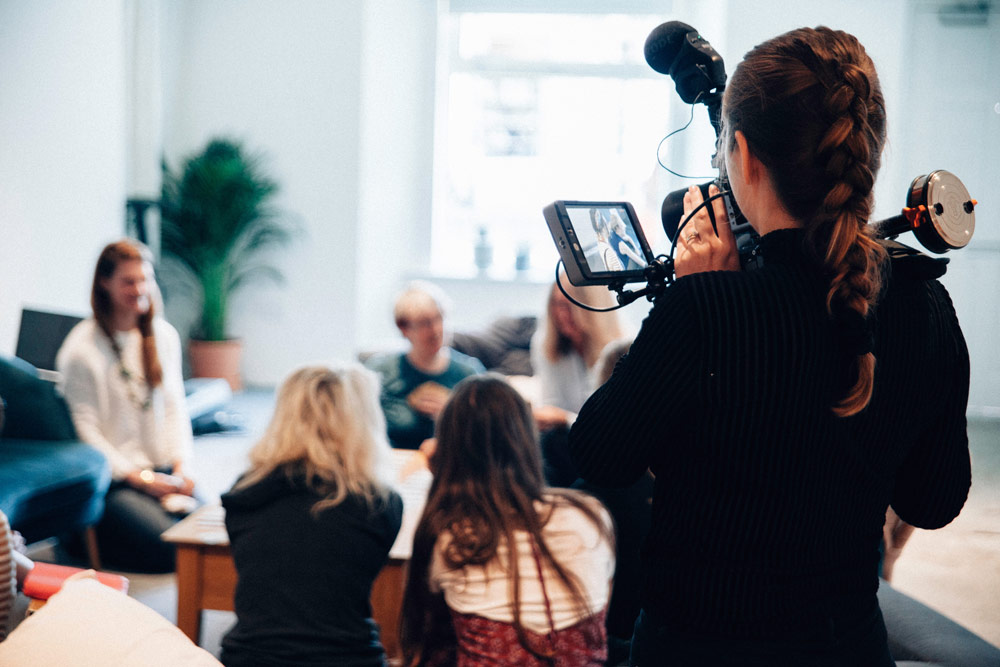 Video your life like a Wes Anderson film
Best phone tripod: mounts for smartphones in 2023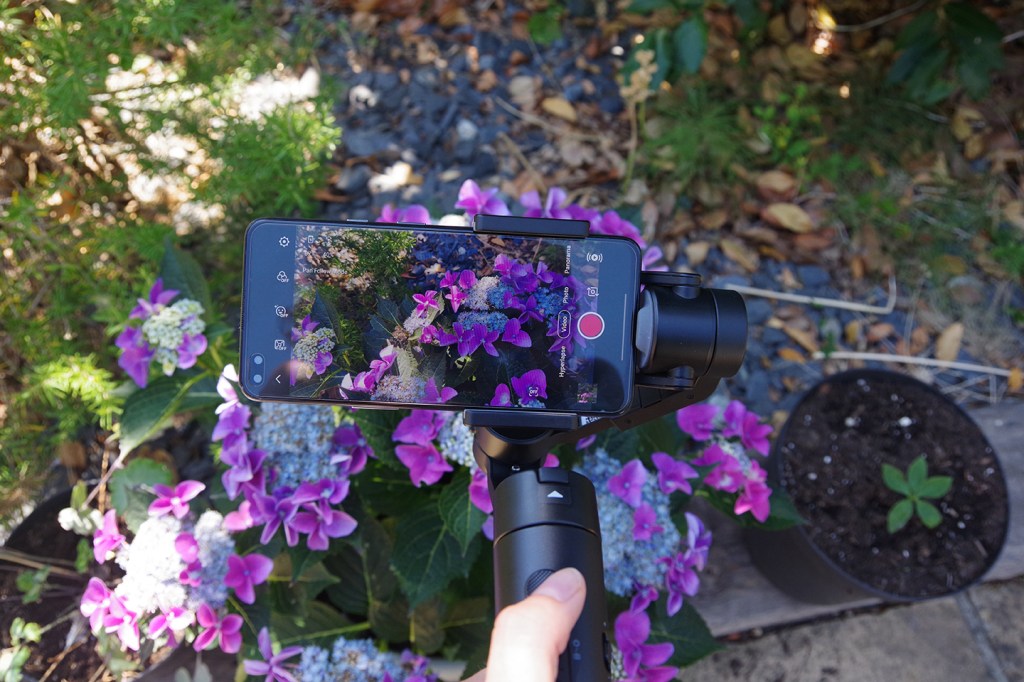 Related articles:
Follow AP on Facebook, Twitter, Instagram, YouTube and TikTok.