The best Nikon mirrorless cameras are some of the absolute top models you can buy, whether you're a beginner or a pro. Here's our full guide.
Since its introduction in 2018, the Nikon Z series of mirrorless cameras has grown into one of the best shooting systems on the market right now. It's not Nikon's first foray into the mirrorless market, but it's unquestionably the most successful (we don't need to talk about the Nikon 1 series), and if you're going to buy a mirrorless camera from Nikon in 2023, it's going to have a Z in the name.
The Nikon Z series is varied, with options for many different users. The recent Nikon Z8, for instance, is a wildlife specialist for committed enthusiasts and professionals who want something a little more affordable than the flagship Z9. At the other end of the scale, the Z50 is a cracking entry-level camera for those who want an affordable entry-point to the series, while the Nikon Z30 is a slimmed-down model that's pitched at vloggers and YouTubers.
Don't worry – in this guide we'll run through everything you need to know about each camera, and if you need an explainer on technical terms, scroll to the bottom where we've put together a dedicated section on key specs and FAQs. Remember when making your pick that you may also need to factor in the cost of one of the best Nikon Z-mount lenses if you're buying a camera that isn't bundled with one. And for more choices from Nikon, check out our guides to the best Nikon DSLRs and the best Nikon DSLR lenses
The best Nikon mirrorless cameras – here is our quick list:
Read on to learn more about each camera's strengths and weaknesses, based on the findings of our review team. Once you've chosen your Nikon mirrorless camera, don't forget to pick up some of the best Z-mount lenses for Nikon to go with it. But for now, let's get to the list of the best Nikon mirrorless cameras you can buy…
Best high-speed Nikon mirrorless: Nikon Z9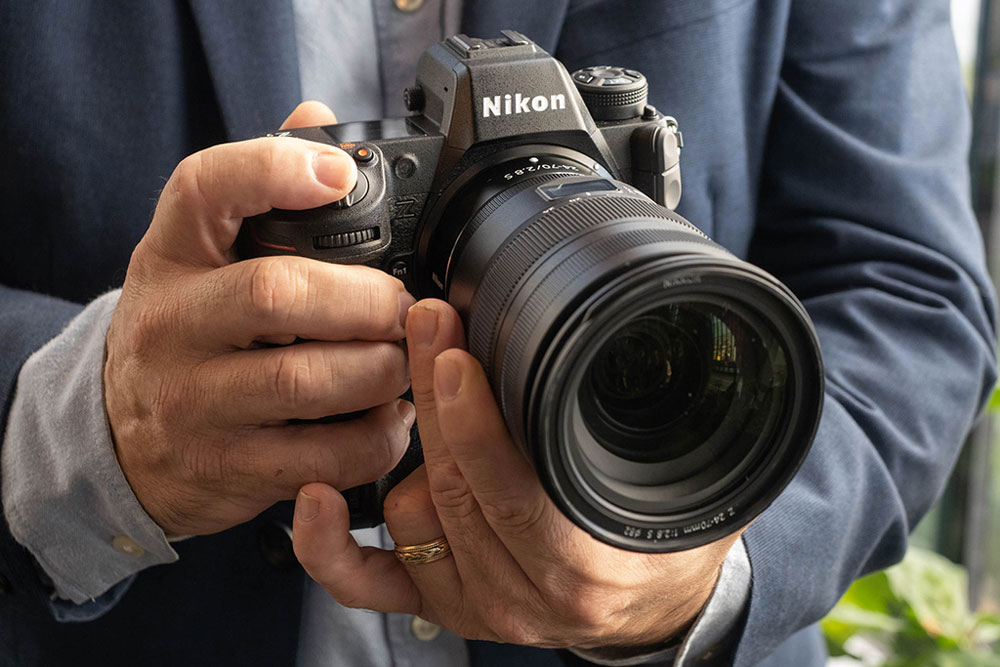 At a glance:
45.7 megapixel full-frame sensor
30fps shooting (120fps at 11 megapixels)
6-stop in-body image stabiliser
8K video
AI subject-detect autofocus
3.69-million-dot electronic viewfinder
What a camera this is. The Nikon Z9 is the firm's mirrorless professional flagship, a spiritual successor to its single-digit DSLRs like the D5 and D6. For years these cameras were a mainstay of professional sports shooters, and the incredible speedster that is the Z9 continues in that grand tradition,
Let's get the headline specs out of the way. The Nikon Z9 is capable of shooting 45.7MP full-resolution RAWs at 20 frames per second, and can do so for more than 1,000 frames. Switch to JPEGs and it'll manage 30 fps – drop the resolution down to a still-useable 11MP, and it'll shoot at a staggering 120fps. And this is all paired with an intelligent, class-leading subject-detection autofocus system that's capable of recognising specific things like faces, animals, cars, birds and more. What's more, unlike Canon and Sony's system, you don't have to pre-select what it's hunting for beforehand. No matter whether the subject is moving, or if it's in the corner of the frame, this system seems to hit it with almost unerring accuracy.
We speak with some authority here, having put the Nikon Z9 through an extensive testing procedure. The Nikon Z9 is an incredible camera that just works – it powers up in seconds, and keeps going for ages on a single battery charge. It can shoot completely silently, and also has a high-efficiency RAW format that keeps file sizes down with no noticeable impact on image quality. Incredibly useful for those fast burst speeds! In some situations the autofocus landed on the wrong subject, or saw a face where there wasn't one, but these incidences were few and far between.
Of course, it all comes at a cost. The Nikon Z9 is a high-end pro camera and is priced as such. For many users it will simply be out of reach. If it's within your budget, however, it is quite simply one of the best cameras we've ever tested.
What we like:
Best-in-class autofocus
Lightspeed burst
High-resolution sensor
What we don't like:
Hugely expensive, obviously
Best for: action, wildlife and sport photography, professional photographers
Read our Nikon Z9 review
Best Nikon mirrorless for beginners: Nikon Z50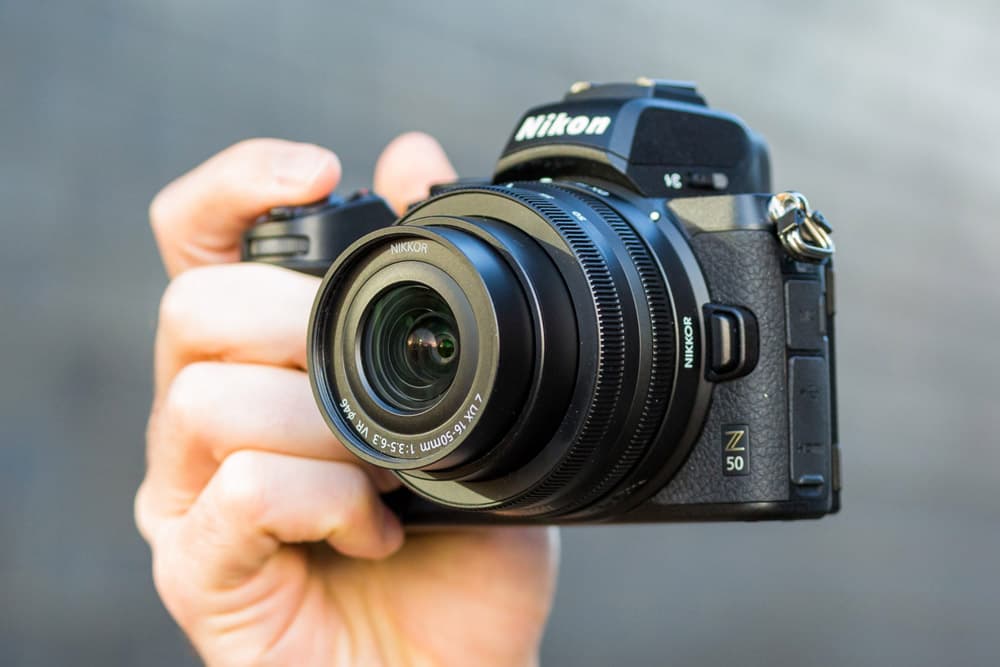 At a glance:
20.9 megapixel APS-C sensor
Tilting touch screen
11fps shooting
4K video
2.36-million-dot electronic viewfinder
Price: £899 / $856 (body only)
Completely new to Nikon mirrorless cameras? Start here. The Nikon Z50 is one of the cheapest models in the line-up, and it's a solid all-rounder that's an ideal choice for getting to grips with the system. It was the first in the series to use an APS-C sensor (or DX-format, as Nikon calls it), and while it's not quite as outwardly stylish as, say, the Fujifilm X series of APS-C cameras, the Nikon Z50 has a lot going for it.
With 11fps burst shooting, this is a nippy little camera, and the hybrid autofocus system does a great job of keeping up with the action. Its 209 phase detection AF points cover the vast majority of the frame, and both Eye and Face Detection AF are on board. The viewfinder and touchscreen are also first-rate for a camera of this class, providing an immersive handling experience.
At the time of the Nikon Z50's release, there weren't very many natively DX-format lenses for Z-mount. Four years down the line, there still aren't very many natively DX-format lenses for Z-mount, which is annoying if you've invested in a camera like the Z50. The full-frame lenses will still work on the Z50, but they tend to be both bulky and expensive, which sort of negates the point of buying a cheaper APS-C camera.
What we like:
Excellent viewfinder and touchscreen
11fps shooting and responsive AF
Deep handgrip
What we don't like:
Limited DX-format Z lenses
Best for: travel, entry-level photographers
Read our Nikon Z50 review
Best budget full-frame Nikon mirrorless: Nikon Z5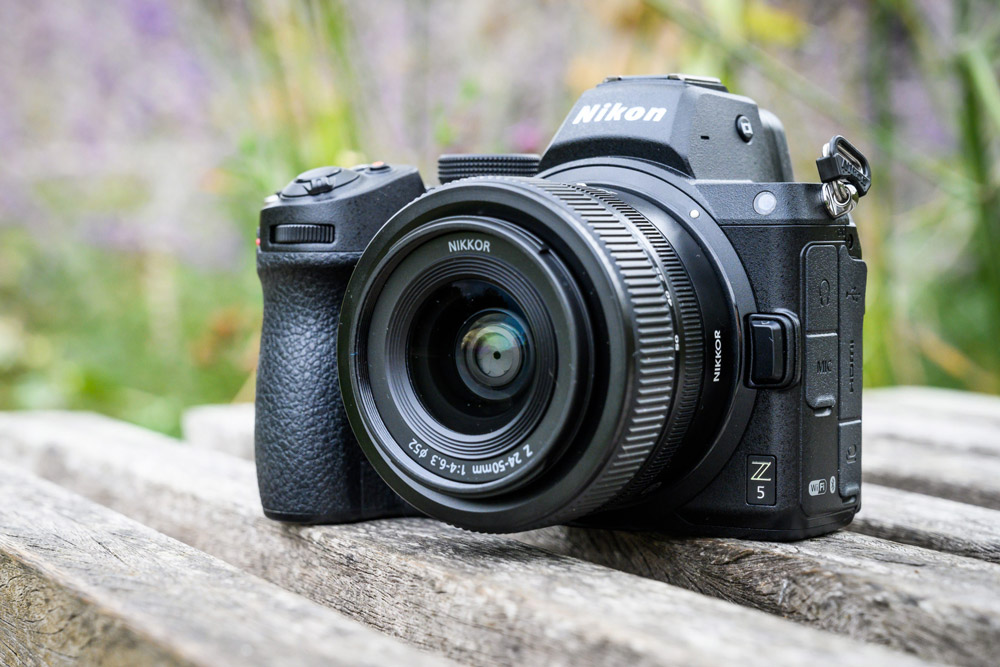 At a glance:
24.3 megapixel full-frame sensor
4.5fps shooting
4K video
3.69-million-dot electronic viewfinder
Price: £1,349 / $1,296 (body only)
If you want a full-frame mirrorless but have a limited budget, you could try the Nikon Z 5. With this, you get a well-performing full-frame sensor and similar great handling as the more expensive Z6 II, but with some key compromises.
Although the resolution of the sensor is similar, the Z5's is not back-side illuminated, so it doesn't perform quite so well in lower light conditions. It's also not quite as quick, especially when it comes to frame rates – so if action, sports or wildlife is your thing, it's probably not the right model for you.
What you do get is a good performer for static subjects, and access to the full-frame system without spending a fortune – which makes it ideal for beginners and those upgrading to full-frame for the first time.
What we like:
Excellent build quality
Dual card slots
Good entry point for full frame
What we don't like:
1.7x crop on 4K
Only 4.5fps burst
Best for: beginners, those new to full frame
Read our Nikon Z5 review
Best high-resolution Nikon mirrorless: Nikon Z7 II
At a glance:
45.7 megapixel full-frame sensor
Up to 10fps shooting
4K video
5-stop in-body image stabiliser
Eye-detection autofocus
3.69-million-dot electronic viewfinder
Price: £3,099 / $2,996 (body only)
A high-resolution full-frame model for serious enthusiasts and professionals, the Nikon Z7 II delivers a comprehensive shooting experience while fixing a few of the flaws of the first version. It's got two card slots now, with a second UHS-II SD slot in addition to the CFExpress/XQD slot from the original Z7.
In testing, we found the Nikon Z7 II to deliver exactly the kind of sublime quality we've come to expect from the series, thanks to its 45.7MP back-illuminated full-frame sensor. The camera performs beautifully at all its standard ISO settings, and while noise starts to creep in at ISO 12,800 and 25,600, results are still perfectly acceptable. The electronic viewfinder is big and beautiful enough to give pause to even the most die-hard DSLR enthusiast (though its raw resolution lags behind that of rivals from the likes of Canon and Sony). Plus, the Z7 II can achieve a decent burst speed of 10fps, with a deep shot buffer.
It's not the biggest upgrade over the original Z7, and isn't supposed to be; the original camera is still on sale as a compelling, cheaper alternative. In either case, you get an exceptional mirrorless camera, with perfectly pitched handling, and the ability to produce superb images. It's hard to ask for more than that.
What we like:
Dual fast card slots
Deep shooting buffer
Excellent handling
What we don't like:
Nasty crop on 4K video
Viewfinder lower-res than rivals
Best for: landscape photographers, macro photographers, portrait photographers
Read our Nikon Z7 II review
Best all-round Nikon mirrorless: Nikon Z6 II
At a glance:
24.5 megapixel full-frame sensor
14fps shooting
5-stop in-body image stabilisation
4K video
3.69-million-dot electronic viewfinder
Price: £2,099 / $1,996 (body only)
The Z6 II is a solid all-rounder that for many Nikon mirrorless photographers is likely going to be the sensible choice. While it doesn't have the sky-high megapixel count of the Z7 II, keeping things rather more low-key at 24.5MP, it's still a highly effective camera with a lot going for it – and having a less pixel-crowded sensor does offer a few advantages of its own. The Nikon Z6 II does an excellent job in low-light, focusing accurately and producing clean, low-noise images in dim conditions. You can nudge the ISO levels up to 12,800 and still get perfectly useable images.
While the autofocus system offers the same 273 phase detection AF points as the previous Z6, it boasts an improved algorithm. In use, the system is reliably accurate and generally seems to intuit your intentions much better than the Z6 ever did. Having Face- and Eye-detection is also handy, especially for street and portrait work.
We have completed a Nikon Z6 II long-term test in addition to our full review, and it really is an impressive camera. The lack of a fully articulating touchscreen may annoy some, but otherwise, it really is a camera that'll do just about everything.
What we like:
Robust 14fps burst
Focuses well in low light
All-around good at everything, for decent price
What we don't like:
Not a huge jump from cheaper Z6
Screen not fully articulated
Best for: All-rounder photographers without a huge budget
Read our Nikon Z6 II review
Best professional full-frame Nikon mirrorless: Nikon Z8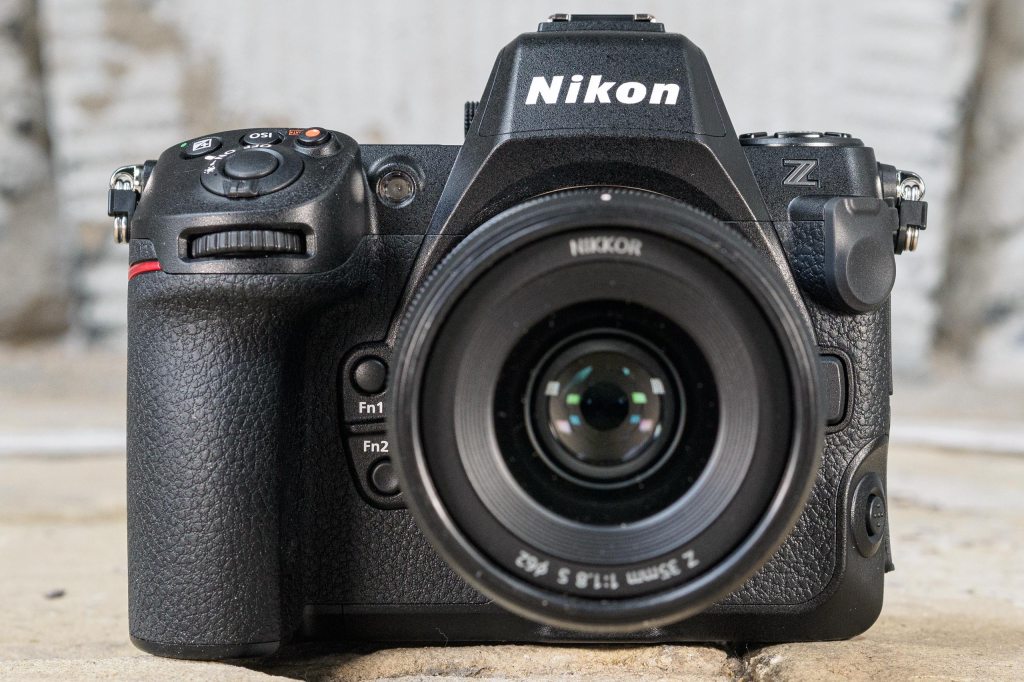 At a glance:
45.7 megapixel full-frame sensor
20fps shooting (120fps at 11 megapixels)
8K video
AI subject-detect autofocus
3.69-million-dot electronic viewfinder
Price: $3,996 / £3,999
The Nikon Z8 is a serious camera for serious shooters. On its release, Nikon explicitly drew comparisons with the D850, one of the most popular DSLRs of all time. The D850's combination of high resolution and high-speed shooting made it a particular hit with wildlife photographers, and the Nikon Z8 is made to continue in that tradition.
Of course, the Nikon Z9 already did that, so in practice, the Nion Z8 is basically just a slimmed-down, cheaper Z9. This is no bad thing of course; the Z9 is spectacular, but expensive and bulky, so the Z8 makes more sense for a lot of users. You still get to shoot 45.7MP images at high frame rates, and take advantage of Nikon's AI-powered subject-detection autofocus. The fastest shutter speed is a lightning-fast 1/32,000sec, and you even get the Z9's 11MP 120fps shooting mode for those times you need to be faster than fast. 8K video is on board, too.
There aren't many things to criticise about this camera, as we discovered in our in-depth Nikon Z8 review. It's a pricier prospect than the Z7 II, which sports the same resolution, so is only really worth the money if you really need the speed. Some photographers may have also preferred two UHS-II SD slots rather than one SD and one CFexpress (or XQD) as this necessitates a more expensive card – but that's a nitpick. If the Z8 fits your budget, and you want the speed it's offering, there's no reason not to snap it up.
What we like:
Almost all the power of the Nikon Z9 in a regular size body
45.7MP resolution
8K video capability but also 4K up to 120p
Handling and build quality
What we don't like:
Two different card types (though that can be useful)
More expensive than the 45.7MP Z7 II
Best for: Professionals needing a powerful, durable and compact camera
Read our Nikon Z8 review
Best second-hand Nikon mirrorless: Nikon Z7
At a glance:
45.7MP full-frame BSI CMOS sensor
9fps shooting
Single XQD card slot
4K 30p video
5-axis stabilisation
Price: around $1,680 / £1,550 (used, body-only)
The original Nikon Z7 was one of the first cameras out of the gate for the Z system. As such, it's something of an interesting object to look back on, exemplifying all the great things about the series as well as displaying a few of the missteps Nikon made on its first go.
So, let's get that out of the way, because we're sure Nikon is heartily sick of people talking about it: the Nikon Z7 only has one memory card slot. Booooo. This is a bit of a head-scratcher as it instantly makes the camera a non-starter for any photographer who needs to use an extra card to provide backup insurance against data corruption – wedding photographers, event photographers, photojournalists, folks of that nature. Then, to make matters worse, the single slot in question was designed to only accept the expensive and increasingly irrelevant XQD card format (it has since been patched to accept CFexpress, which is still expensive, but is at least widely used).
However, if you can get over this, the Nikon Z7 delivers the exact same full-frame resolution as its successor, the Z7 II, and does it for about half the price if you buy it on the second-hand market. This kind of full-frame quality for about $1,600 / £1,500 is a hell of a deal, storage quirks notwithstanding, and the handling of this camera is wonderful. It's nicer to use than its Sony contemporaries, sitting comfortably in the hand, and its viewfinder is gorgeous.
The image quality is simply stunning in pretty much any lighting conditions, and the 5-axis stabilisation is highly effective – even more so when paired with stabilised Z-mount lens. While it doesn't boast the kind of futuristic AI-powered subject-detection autofocus we'd later see on the likes of the Z9, it still does an excellent job of locking onto and tracking moving subjects. Like all the best Nikon cameras, it just works.
What we like:
Excellent value on second-hand market
Good ergonomics
Beautiful viewfinder
High-res image quality
What we don't like:
Single card slot that requires expensive cards
Screen just tilting, not vari-angle
Read our full Nikon Z7 review.
Check out second-hand prices for the Nikon Z7 on MPB.
Best Nikon mirrorless for vlogging: Nikon Z30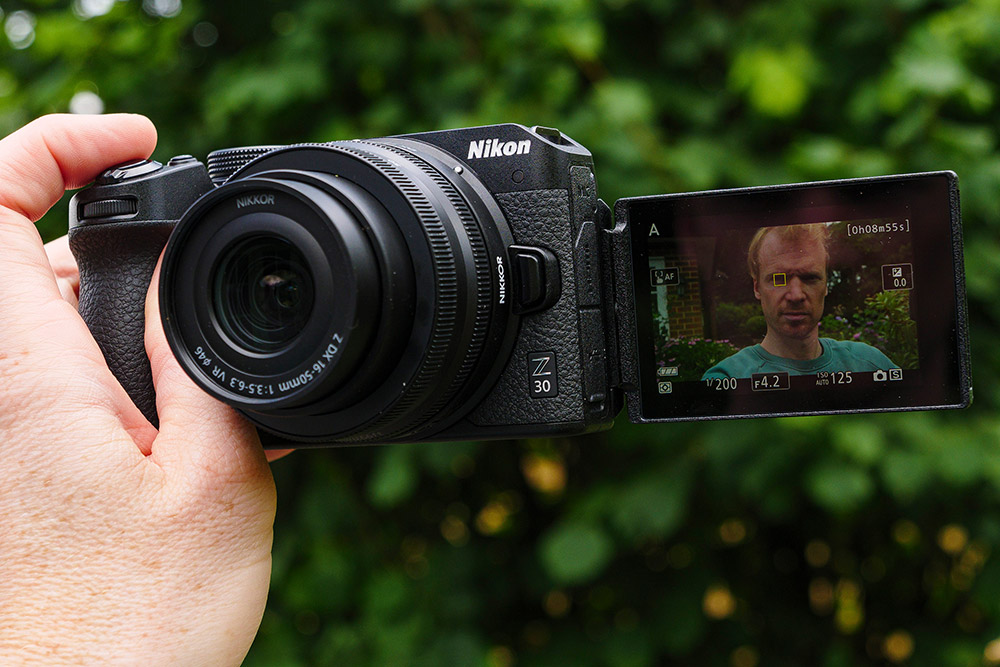 At a glance:
20.9 megapixel APS-C sensor
11fps shooting
Single card slot
No viewfinder
Uncropped 4K video
Price: £699 / $656 (body only)
The Nikon Z30 is a camera aimed squarely at vloggers. It shapes up as a natural rival to similarly priced vlogging cameras like the Sony ZV-E10, with the same APS-C sensor, though as the Z system is much younger than Sony's E-mount, you won't have such a gargantuan selection of optics to choose from.
Still, on its own terms, the Nikon Z30 is an impressive camera. As we found in our full test and review, its comfortable grip makes for solid handling. The camera is easy to use one-handed, with the flip-around screen handy for self-taping. There's no viewfinder, but a vlogging camera does not really need one, and it help keeps the weight down to a slender 405g. Not bad!
Video footage looks excellent, with uncropped 4K available at up to 30p, and a Flat colour profile that is is ideal for grading (it's not quite a Log profile, but it's close). Full HD is also available at up to 120p, bringing slow-motion into play.
There are a couple of omissions. We found that the lack of a headphone jack compromises the Z30's usefulness somewhat when it comes to video, as having no way to accurately monitor your audio mid-shoot could cause real problems. Also, while the lack of in-body stabilisation was presumably a sacrifice to keep the cost and weight down, it does make it harder to use the Z30 for run-and-gun shooting (and the cost-savings are somewhat negated anyway if you end up having to buy a gimbal).
What we like:
Very lightweight
Excellent, uncropped 4K
Well priced
What we don't like:
No headphone jack
No in-body stabilisation
Best for: vloggers on a budget
Read our Nikon Z30 review
Best Nikon mirrorless for style: Nikon Z fc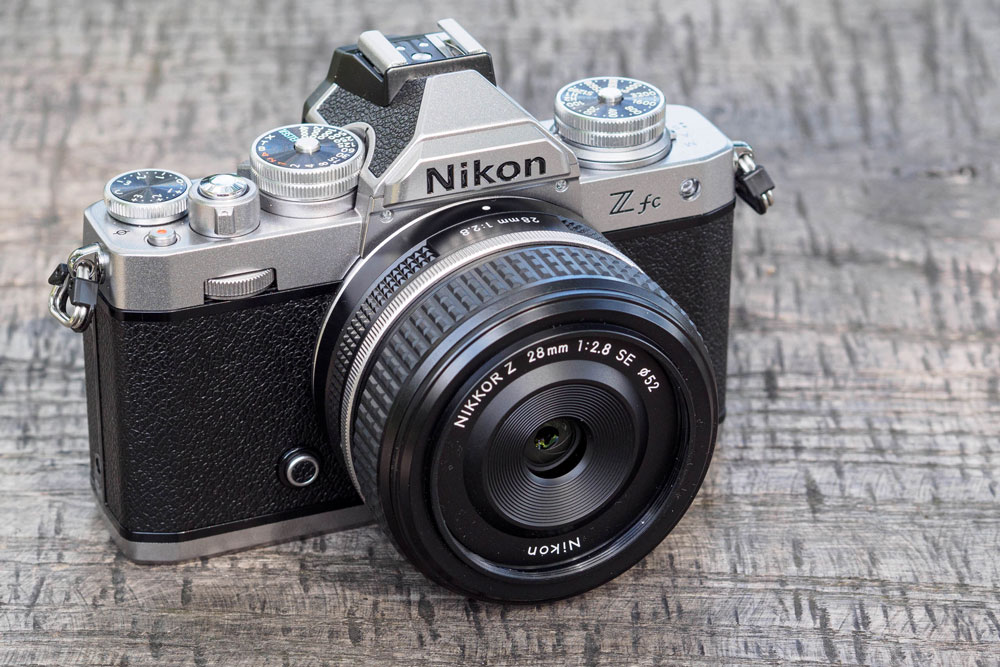 At a glance:
20.9 megapixel APS-C format sensor
11fps shooting
4K video
Vari-angle screen
Retro-styled body
2.36-million-dot electronic viewfinder
Price: £899 / $956 (body only)
Using the same base specifications as the Z 50, the Z fc should appeal to all of those that want something that not only performs well, but also looks the part too.
With its attractive retro styling, it's quite possibly the best looking Nikon Z camera, but another advantage is the use of a vari-angle screen, which is a bit more flexible and useful than the tilting version found on the Z50.
Which you opt for may also come down to price – sometimes the Z50 is cheaper, sometimes its the Z fc – so it's worth shopping around to make sure you get the best deal.
What we like:
Stylish, well-designed body
Vari-angle screen
Good image quality at high ISOs
What we don't like:
Somewhat bulky
Basically the same as Z50
Best for: vloggers, travel, entry-level photographers
Read our Nikon Z fc review
How to choose a Nikon mirrorless camera – key specs explained
What is a mirrorless camera anyway? As the name implies, a mirrorless camera lacks a mirror in the camera body, unlike a DSLR, which uses a reflex mirror system to reflect an image into an optical viewfinder. There are plenty of other camera types that don't use mirrors, like compacts and action cameras, but the term 'mirrorless' has come to refer specifically to interchangeable-lens cameras. See our piece on DSLR vs mirrorless for a more detailed explanation.
Focusing specifically on Nikon mirrorless cameras, here are the key specs you'll want to pay attention to when choosing the right model for you.
Sensor: Sensor size is an important consideration when choosing any camera. In the Nikon mirrorless system you have two choices: full-frame, or a smaller APS-C sensor (Nikon calls them FX and DX, respectively). The larger full-frame sensors are better for image quality, especially in low light. However, APS-C cameras are not only more affordable, but also provide you with a lighter system that's great for travel. We have a full outline of the key pros and cons of sensor sizes in our guide to full-frame vs APS-C.
Resolution: This refers to how many pixels the sensor has, expressed in megapixels (MP). The more megapixels, the more detail in images. This is great for printing, but demands more storage space and does increase the cost of the camera.
Screen & viewfinder: Almost all of Nikon's mirrorless cameras have electronic viewfinders – only the vlogger-focused Z30 leaves it off. Size and resolution are the key specs to pay attention to here; the bigger the EVF, the better the shooting experience. Screen-wise, all Nikon mirrorless cameras have LCD screens that offer some kind of movement, either tilting or fully articulating. The latter is useful for video, especially recording pieces to camera, though photographers can also make use of it to explore unusual shooting angles.
Image stabilisation: All of Nikon's full-frame cameras include in-body image stabilisation (IBIS). None of Nikon's APS-C models offer it, which is something to think about – particularly if you're likely to be using them with long lenses or in low light with slow shutter speeds. That said, you can mitigate for the lack of IBIS by always using lenses with stabilisation (Nikon calls it VR, or 'Vibration Reduction'), or by using a tripod.
Frame rate: Also referred to as burst speed or continuous shooting speed, this is how fast the camera can fire off shots sequentially. A high burst rate is useful for capturing fast action – though it's also worth checking a camera's buffer depth, i.e. how many shots it can capture in a burst before it has to slow down and catch up.
Video: All Nikon mirrorless cameras can shoot 4K video, and the flagship Z9 and Z8 even offer 8K for high-end users.
Lens options: You might be thinking this is a redundant category, given that all the cameras on this list use the Z mount. However, things work slightly different with the APS-C DX-format models in the series (currently the Z50, the Z30 and the Z fc), as their smaller sensor incurs a 1.5x crop factor on the focal length of the lens. This means, for example, a lens that provides a 35mm focal length on the Nikon Z7 II will provide a 52mm equivalent focal length when mounted to the Z50. There are a few Z-mount lenses specifically designed for DX-format cameras, though admittedly not very many so far.
Best Nikon mirrorless cameras: frequently asked questions
Which is the best Nikon mirrorless for wildlife?
There is a straightforward answer to this question, albeit one that a lot of people aren't going to like – the best Nikon mirrorless camera for wildlife is the Nikon Z9. It just is. The out-of-this-world burst shooting capabilities, the intelligent subject-detect autofocus that can lock onto animals and birds, the sublime 45.7MP image quality – it all works seamlessly in tandem, and makes the Nikon Z9 not just one of the best Nikon mirrorless cameras for wildlife, but one of the all-around best wildlife cameras you can buy, full-stop.
Of course, with a price tag of $5,496 / £5,299 for just the body, the Nikon Z9 is not going to be a realistic option for a lot of people. The new Nikon Z8 is essentially a slimmed-down version of the Z9 with a lot of the same internals; however, at $3,996 / £3,999, it's still not what you'd call budget-friendly.
For a more modestly priced option, we'd say the Nikon Z6 II is a good choice for wildlife. Its focusing system is reliable and accurate, and it keeps on going when the light gets low. Its full-frame sensor produces great-looking 24.5MP images, and wildlife photographers can take advantage of the 14fps burst mode. It costs around $1,996 / £2,099.
If this is also too high a price, then an APS-C model could be a good choice. The Nikon Z50 ticks a lot of boxes for wildlife photographers, with a compact, portable body and 11fps burst shooting. It's a reliable little all-rounder, and it's hard to argue with the street price of around $856 / £899. Plus, the small sensor size means the effective focal length of your lenses will be extended by 1.5x – so, for example, a 50mm lens will behave like a 75mm lens. This can be immensely useful when hunting for images of shy wildlife subjects.
Can you use Nikon mirrorless cameras with F-mount DSLR lenses?
Yes, you can mount Nikon F-mount lenses to your Nikon Z-mount camera, and in many cases still enjoy full functionality of features like autofocus and stabilisation. All you need is a Nikon FTZ adapter, which slots between the camera and lens. There's also an FTZ II adapter, which is basically the same but has a redesigned construction that keeps out of the way of some of the function buttons on the Z9. Adapters are easy to find; you can get one from MPB for around £130.
Be aware that this process only works in one direction – you can't adapt mirrorless Z lenses onto F-mount DSLRs. This is because DSLRs have a thicker body to allow room for the mirror, so any Nikon Z lens would be mounted too far from the sensor to focus.
Which Nikon mirrorless cameras have an articulating screen?
Quite a few of Nikon's mirrorless cameras make do with a tilting screen instead of a fully articulating one. The Nikon Z fc has a fully articulating screen, as does the vlogging-focused Nikon Z30. The Nikon Z9 and Z8 receive half points here, as they have two-way tilting screens that are pretty close to fully articulating.
Other Nikon mirrorless cameras, including the Z5, Z50, Z6 II, Z7 II, Z6 and Z7, use various types of tilting screens, rather than fully articulating.
Text by Amy Davies, with contributions from Jon Stapley.
Once you've found the perfect camera for you, have a look at some of the best Nikon Z-mount lenses. Or have a look at more buying guides, and our latest reviews. 
Follow AP on Facebook, Twitter, Instagram, and YouTube.